While weddings are performed throughout the year, the spring and summer months still tend to be popular times for a variety of reasons. Excellent weather provides for outdoor events, and these seasons are typically associated with vacations, allowing others greater flexibility to join the celebrations. If you are thinking about a Mexico wedding in the coming months, it is important to set goals now to ensure that your guests are able to attend. Additionally, it is important to consider the unique requirements associated with a foreign wedding. Before you begin your investigation, you might want to research Mexican insurance online for a number of reasons. Both you and your wedding guests driving in Mexico will need to have Mexico car insurance beforehand.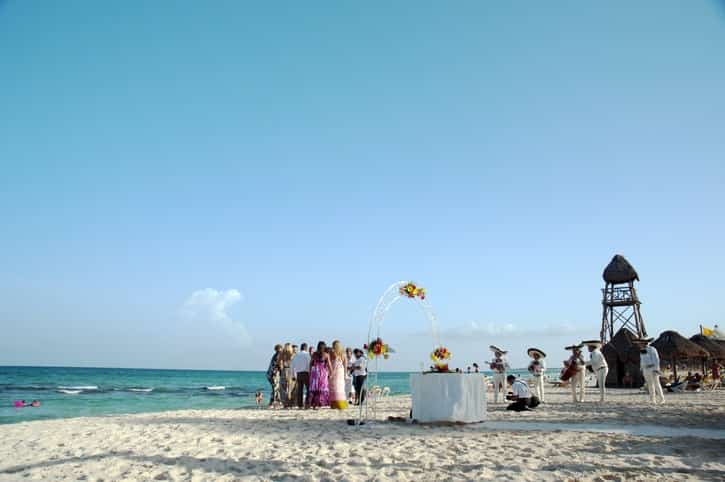 Distance view of Guests Celebrating a wedding on a beautiful beach with Mexican Performers wearing Sombrero Hats & White Suits with deep blue ocean background at a Costa Maya resort
Entering the country
Your destination wedding could be within a short driving distance beyond the border or reached by air or cruise ship. In that case you will need a valid passport that has at least a six-month period left before its expiration. Your guests will need time to obtain the appropriate documentation, making it important to give them plenty of advance notice. Take time to verify your own passport needs as well.
Remember, Authorities Require Mexico Car Insurance!
Any members of the wedding party, guests included, will need to secure Mexico car insurance to drive legally in Mexico. The location of the wedding will affect issues such as liability limits. This makes it helpful for you to review Mexican insurance online coverage recommendations for the states on the travel route. A wedding in Rocky Point, Sonora, could require lower liability limits, but a wedding in Cabo San Lucas would require the highest limits available based on the potential costs to pay death benefits in case of a fatality accident.
Pro Tip: Mexican insurance online allows you to drive the toll roads, so secure Mexico car insurance before leaving!
Preliminary wedding activity
It may be beneficial for you to visit your venue well in advance of the actual event. This is to ensure that you are confident in the location, arrangements, and planning professionals. A wedding coordinator can be a huge help. This is because of Mexico's requirement for a civil ceremony and blood testing in advance of a ceremonial event. Long-term insurance coverage may be appropriate if you intend to use the same vehicle for all travel. However, you can also buy insurance on a trip-by-trip basis if you will use different vehicles at different times.
Mexican insurance online from Mexican Insurance Store.com gives you peace of mind!