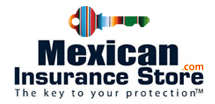 Strength and experience since 1979
Great Customer Service

1-888-800-9988 from US or Canada
Driving South of the Border?
Mexican Insurance Store | Easy Mexico Insurance Savings
August 5, 2022 DISCOUNT COVERAGE OPTIONS FOR THOSE GOING TO BAJA AND ROCKY POINT. THE PROGRAM IS A++ RATED.
Looking for a Mexican car insurance policy that is both affordable and reliable? Check out 7 top-rated quotes to find the best policy.

EASY INSTANT CAR INSURANCE
POLICIES
A.M. Best's "A" Rated
Daily, Weekly, 6 Month, Annual
Same Day Mexican Insurance Policies OK
Three Easy Steps to Buying!
Enter Vehicle Information
Pay with a Credit card
Print Your Policy In Minutes


PURCHASE MEXICAN AUTO INSURANCE 24 HOURS A DAY ONLINE
Find Policy Service (888) 800-9988
Hours Mon-Sun 8:30AM-6:00PM PST
service@mexicaninsurancestore.com
(Claims Assistance - 24/7 365)


A+ RATED Mexican Insurance Store, a local favorite, is the #1 PROVIDER of Mexican car insurance policies in California's 3rd most populous metropolis, with over 14 million residents.



-Get insured in minutes
-Print your policy instantly
-Fully licensed and bonded
-Available to U.S. and Canadian residents
-Policies start at $120 annually
-Drive in Mexico with peace of mind, knowing you are fully covered



NEW CHUBB PLATINUM

$500,000 Liability Limit For The Same Premium as $300,000. The Only Claims Services Guarantee In The Marketplace! FREE ROADSIDE ASSISTANCE WITH EVERY POLICY PROTECTS YOUR TRIP!



Professional Car Accident Claims Handling Guaranteed! We are proud to offer our customers the finest FREE vehicle roadside assistance available in the marketplace today with every policy!



Do you know if your Mexican auto insurance is financially stable? Is your Mexico tourist auto insurance rated A++ or AA by Standard and Poors? Why put forward more money for an under-rated policy when you can get better protection for less cost by purchasing your coverage online?


Review the best: Review the best A+ rated policy service options offered by Mexican insurance companies with a solid financial history who are known for paying claims to see which one is right for you. Your policy is delivered instantly!

8 BEST COMPREHENSIVE CAR INSURANCE COVERAGE OPTIONS offered by "A++" RATED MEXICO INSURANCE COMPANIES

Up to $1,000,000 C.S.L. liability coverage - Helps address new fatality limits.

Up to $25,000/$125,000 uninsured motorist medical payments - your benefits.

Up to $1,000,000 for bodily injury and property damage liability protection, including legal aid and bail bond expense.

Lowest in the industry $500 physical damage coverage deductible - Fixed.

Industry Low $1,000 Theft Deductible - Fixed.

U.S. Labor rates (higher than standard car insurance coverages)

It is OK to repair in any country or dealership if your car breaks. Many Mexican insurance competitors allow repair in Mexico ONLY.

Your collision deductible is waived if an uninsured driver hits your vehicle.

Mexican Insurance for Vandalism, Partial Theft, Car Rental, Roadside Assistance, Medical Payments, Medical Evacuation, Airline Tickets!



Press-Enterprise Editor's Choice
Mexico Car Insurance Policy ... For Your Peace Of Mind!
Southern California's Leading Inland Newspaper, The Press-Enterprise Concludes: Mexican Insurance Store "Sells Peace of Mind" to Mexican Drivers.
What Customers Are Saying About Our Mexico Insurance Companies
"Car accident on a Sunday. On a scale from 1 to 10, give you an 11!"
- D. Valentino, CA
"Everything promised was done. No additional fees- friendly - professional - recommending to friends and family."
- Jeffrey L., CO
"Earned their A+ rating in my book! What great customer service should be everywhere!"
- J. Kippo, BC
"Saved us lots of time and money. I would rate your car insurance service a 10."
- J. Weaver, AZ
"Highly recommend their products and services - see for yourself."
- K. Harness, CA
Buying An Unrated Policy At A Baja Border Shack? - Why?
Experienced travelers don't wait in line to buy a more expensive policy with less coverage from an unrated car insurer on trips to Mexico?
Featured Articles - August 5, 2022
October in Mexico – Mexico car insurance coverage
If you ever have an accident, particularly if the Covid-19 pandemic is at its peak, you'll want to invest in excellent coverage to make claims processing easier. - Travel Tips, Ideas, Reviews, and Mexican Insurance Coverage Comparisons for Visitors Driving to Mexico From California, Arizona, Texas, and Canada To San Felipe, Rocky Point, Ensenada, Rosarito, And Other Destinations.
Phoenix or Tucson, Arizona to Rocky Point, Mexico!
Top Rated Mexican Car Insurance Companies
We offer A.M. Best "A+" Rated authorized and admitted auto insurers domiciled in the United States and Europe. Best financial strength, stability, and claims-paying reputation.

24/7 Emergency Medical Assistance
Insist on CHUBB Platinum Travel Aid Comprehensive Travel Aid 24/7.

Guaranteed Travelers Aid
FREE Roadside Assistance
U.S./Canada Repairs OK
Bail Bonds Included
Car Rental
Medical Payments
Emergency Evac
Plane Tickets Home
Lowest Deductibles!
Review 28 Mexican Insurance FAQs
Top 7 Reasons To Purchase Mexican Car Insurance from the STORE!
Why do I need Mexican Car Insurance?
Do you offer emergency medical assistance plans?
How do I get my policy?
Newsletter Sign-Up
NEWS and INFORMATION:
The Truth About Mexican Car Insurance: Why You Need It
If you're planning to drive South of the Border, you need Mexican insurance coverage. Plain and simple. Drivers must insure their foreign plated vehicles in Mexico according to Mexican Federal Liability Law. Mexican law requires it. US or Canadian liability coverage is invalid in Mexico and won't protect you.
Despite what some people may tell you, Mexico car insurance is not optional - it's required by law. You could face severe legal and financial penalties if you get into an accident without it.
The local police will likely show up, and both drivers must immediately show proof of financial responsibility from an authorized Mexican auto insurance company.
Suppose you have specific car insurance for travelers and have adequate liability limits with legal assistance and medical payments. In that case, you'll be protected from any bodily injury or property damage you caused and have proof to show local authorities. If not, you risk fines, imprisonment, and vehicle confiscation until the fault is determined and the bill is paid. Then, you will have to go in front of a judge who will figure out who is at fault.
Mexico Car Insurance Policy Choices - "Full Coverage" or "Liability-Only".
"Full Coverage" Mexican auto insurance, as the name implies, offers broader protection than simply "Liability Only" coverage. A "Full Coverage" policy covers collision, comprehensive, and liability inside Mexico. In addition, a Standard policy includes damage to your car, theft, bail bond expenses, some medical expenses, and roadside assistance. A more complete "Full Coverage" Mexican tourist auto insurance policy includes vandalism, partial theft, and valuable low-cost add-ons.
It's worth noting that each Mexican auto insurance "Full Coverage" plan is unique to each insurer. As a result, there are many distinctions between the various programs. The border and the entire country lack a standard framework for car insurance policies. No two plans are identical. There are no two Mexico insurance policies that are alike.
As a result, just because you purchase "Full Coverage," you shouldn't assume you are protected against everything. Make sure to thoroughly examine your policy to ensure that you are adequately covered in all important areas. If a particular form of protection isn't stated on your policy as being covered, your insurer will probably not pay any claim on it.
There are also many other policy distinctions between insurers that aren't immediately obvious. Although liability-only Mexican auto insurance could be more affordable in the short term, you may be allocating your money poorly, especially if you are making car payments or have a new or newer vehicle.
Let's Learn How To Properly Assess 'Actual Cash Value' For Mexican Auto Insurance.
In 2022, this is a challenging scenario because vehicle values have significantly risen in recent months, sometimes exceeding their initial price.
OK, so let me explain. When buying a full-coverage Mexico car insurance policy, one of the essential things to consider is "Actual Cash Value," which is the "Current Market Value" in layman's terms. It's important to get this right. Make the value too high, and the policy will cost you a little more than it needs to. If you settle for too low a figure, it will cost you money in a total loss or theft, which you could use to purchase a replacement vehicle. The maximum amount any policy will payout is the value you enter for your vehicle.
So, how can you figure out what your automobile is worth? The usual method is via Kelly Blue Book. Although this may be the case, many late-model used vehicles are currently selling for considerably more than KBB.
Before purchasing a policy, visit a website that lists used cars from well-known dealers. Next, go through the models and pick one with comparable pricing. Use the same year, make, model, mileage, condition, and accessories. If a reasonable person would believe that the vehicle for sale is comparable to yours, your value should be as accurate as possible in a payout. There is one potential problem with this approach. Assume that your "Actual Cash Value" falls to normal levels during its duration after you purchased a policy. You may not receive the full amount of money covered by your Mexico auto insurance policy if your vehicle is destroyed or stolen.
Of course, if your policy is effective for a short period (less than 30 days), no worries! If you're purchasing a 1-year policy, you might think twice, but car shortages will not ease until 2023 at the earliest, and higher values are projected to hold.
There is also one additional point. Quality Mexican car insurance companies pay a minimum of KBB Private Party - Retail. Sub-standard online insurers with less than "A" ratings try to pay wholesale value regardless of the "Actual Cash Value" you enter, as do many local poorly-rated car insurers selling coverage at the border. As usual, you get what you pay for.
In 2022, to help narrow the gap in this situation, one A++ rated Mexico Insurance Company has increased its definition of a total loss to KBB dealer value, which is higher than retail. Good move!
What Mexico Auto Insurance Documents Do I Need If I Have An Car Accident In Mexico?
If you're involved in a vehicle accident in Mexico, you'll need the following items:
Mexican Car Insurance Certificate - U.S. or Canadian domestic policies are not valid in Mexico. Just like Mexico auto insurance is invalid in the United States or Canada. Although certain insurers cover physical damage to your vehicle in the border zones, U.S. or Canadian coverage is not recognized or considered legitimate in Mexico. You must purchase liability coverage issued by an authorized insurer to show financial responsibility. Before you go across the border, get your policy online and keep an extra set of your papers with your items.

Passport - You must always have your passport card or hard copy of your formal passport with you for a border crossing.

Registration/Title - Bring your vehicle registration/title and Mexican auto insurance copies with you.

I.D. - For your Mexico auto insurance to be valid, you'll need a valid driver's license with a clear photo.

Letter of Permission - if you drive a car that you don't own, a note of written permission is highly recommended from the owner. Permission is also needed for your owned vehicle if you have a lienholder and you are driving beyond the border zones.

Permits - if you want to drive outside the border zone in mainland Mexico, you'll need a vehicle permit. This isn't necessary for Baja. When you fill out the affidavit, a deposit is often required, and the authorities will return it to you after you depart from Mexico.

Credit card - Have a valid major credit card in your name in case of a significant accident or other problem.
Notable Areas We Service
All States in the United States, all Provinces in Canada, Texas, California, Arizona, Los Angeles, Long Beach, Santa Ana, Oregon, Washington, British Columbia, Illinois, Baja, Ensenada, Houston, Texas, San Antonio, Florida, Anaheim, Chicago, Canada, Colorado, British Columbia, Canada, El Paso, New Mexico, Oregon, Washington, Nevada, Ontario, Santa Ana, Ensenada, Guadalajara, Illinois, Texas, Washington, Montreal, California, Texas, Colorado, San Ysidro, Nogales, Phoenix, Inland Empire, Palm Springs, Riverside, Rocky Point, Rosarito, Canada, San Francisco, San Jose, Tijuana, Toronto, Vancouver, San Diego, Tucson, Florida, Miami, Orlando, New Jersey, New York, Brownsville, San Bernadino.
National Producer License # 2663714, California License # 0C24601
3819 Saint Austell Way

,

Perris

,

California

92571
Contact:

888-800-9988

| 951-657-4220
info@MexicanInsuranceStore.com
Copyright 2022 EPro Ins. All rights reserved.
Sitemap
Travel Safe With Quality Mexican Car Insurance Coverage! We Offer The Best Mexico auto insurance online for Baja California Travelers.
Review And Compare Multiple Mexican Auto Insurance Liability Rates and Mexico Car Insurance Today!
Quote, Buy, And Print An A+ Rated Mexican Insurance Liability Coverage in Minutes!