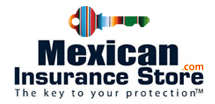 Strength and experience since 1979
We focus on Customer Service

1-888-800-9988 from US or Canada
Mexican Insurance Store Privacy Policy

Protecting your privacy is very important to us. We collect information from you to streamline your interaction with us and make it easier to buy the online Mexican insurance of your choice. This privacy policy applies to all information, regardless of whether you purchased a Mexico insurance online product or not. We have taken the following measures to ensure that your info is secure.
How We Protect Clients Info:
While no security system is 100% guaranteed, out site utilizes several state-of-the-art tools to protect your data. Strict security measures are employed whenever member or provider data is collected and transmitted.
Credit Card Security Standards and Data Encryption: We have enrolled with VeriSign, a company that sets strict standards for conducting secure communications and transactions over the Internet. This is the same encryption security used by banks and other financial institutions. Verisign delivers critical infrastructure services that make the Internet and telecommunications networks more intelligent, reliable, and secure. Every day VeriSign helps thousands of businesses and millions of consumers connect, communicate, and transact with confidence. VeriSign Payment Services enable customers to securely process and manage online payments.
Firewall Protection: Once we have your information, we store it in a secure database behind a 'firewall'. A firewall is simply a software and hardware product that limits access by outside computers. Only authorized personnel have access.
Password (PIN) and Username Verification: An additional step to protect your information is the use of a unique username and password (or 'PIN') for each individual member. Should you ever forget your PIN, we will first verify your identity and then send your PIN to your registered e-mail address.
Mexican Insurance Store Privacy Policy - What Information We Collect: This website does not collect any information from individuals who wish to browse without registering. In order to purchase our products and services, however, you must become a registered member. Registration is free. Information is collected as it is needed to process your online Mexican insurance requests for Mexico insurance online quote information.
Application: When you apply, it is mandatory that we collect basic information such as your name, address and e-mail address, vehicle etc. etc.
Children:If you are under 18, you may not use this web site to purchase products or services.
Information Collected to Generate Quotes: We do collect personally identifiable information from you when you request a price quote or review comparison for a particular online Mexican insurance product or service. We may also collect information from you if you wish to enroll in or apply to certain programs. The information required to provide you with a Mexican insurance online quote, product or service varies, but it generally includes specific information needed by the agent in order to complete your request. For example, if you are seeking Mexico insurance online quotes, we will request information about your motor vehicle.
Cookies:Our site uses 'cookies' to make your online shopping experience more convenient. For example, we use a cookie to store your login between sessions and to maintain information about the quotes that you've requested during your session. If your browser is set to reject cookies, you will not be able to retrieve for Mexico insurance online quotes.
How We Use Your Information:
To Generate Mexico Insurance Online Quotes You Request: we collect identifiable info from you when you request a price quote for a particular online Mexican insurance product or service. We also collect data from you if you wish to enroll in or apply to certain programs. The data we collect is used by insurers to generate a quote, and in some cases this quote review is based on their underwriting guidelines. Disclosure of your personal data is not transmitted to the Provider Companies unless you request a quote, enrollment, or revew application either through this internet site or via telephone.
We save the info gathered from your membership to make future quote comparisons easier and faster. Saving the information allows us to pre-populate certain fields and make your next policy purchase experience easier to complete.
Mexican Insurance Store Privacy Policy - How Our Company Uses Statistics:
Insurers process data according to their particular underwriting guidelines and operating policies. Each Companies quoting comparison process differs to some degree.
Our agreements with the Companies prohibits them from using your data for any purposes other than generating the quote. For example, Insurance Companies will not use the info collected by us to telemarket their online Mexican Insurance services to you, and will not place you on their mailing list. However, if you elect to purchase products or services from us, we will add you to our customer base and will handle your information in accordance with whatever policies we have in place as we may need to commumicate with you or the online Mexico insurance company.
Notification of Other Services and Products:
The primary reasons we collect your e-mail, telephone number, and/or postal address is to notify you about quote comparison results and if you purchase Mexican insurance online coverage, to send a copy of your Mexico insurance online policy to you and/or communicate other important member info. Occasionally, we may also use your postal and/or e-mail address to inform you about products and services available through us. If you do not want to receive such notifications, simply contact us.
Other Parties:
We will not sell or otherwise transfer your personal info to unaffiliated companies, unless we notify you prior to collecting, what specific will be provided to what specific third party and you will have an opportunity to opt-out. However, we may in the future sell all or part of the business, and in any such transaction, all of our customer info will be part of the transferred assets. Also, we occasionally employ other companies or individuals to perform certain functions on our behalf, such as analyzing code. These agents may have access to personal information needed to perform their functions, but they may not use it for any other purpose. This information includes information from your application as well as information about our transactions with you. If you do not want us to share this information with affiliated companies, other than as permitted by law, let us know by simply setting the preference as indicated in the section entitled 'How You Can Access Y our Preferences' below.
Additionally, we may provide aggregate statistics about our service to reputable third-parties, but such statistics contain no personally identifying information.
How You Can Access Your Preferences:
If you would like to modify and/or delete any data we have gathered from you, please contact us and we will delete it.
Disclosures:
Conditions of Use, Notices and Revisions, if you chose to visit this page or any page on the website, your visit and any dispute over privacy is subject to this Notice and the Conditions of Use.
Although we cannot guarantee the security of any data that is transmitted to us over the phone or over the Internet, we utilize technology within our means to protect you.
This is an an 'As Is' Web Site: Use of this site, its software, products, and services is provided 'as is'. Linden H. Gray, Mexican Insurance Store, E-Pro Insurance and/or its Insurance Companies, and affiliates cannot be held liable for any direct, indirect, punitive, incidental, special, or consequential damage or other injury arising out of or in any way connected with the use of this Web site.
National Producer License # 2663714, California License # OC24601
3819 Saint Austell Way

,

Perris

,

California

92571
Contact:

888-800-9988

| 951-657-4220
Fax: 626-638-3255
info@MexicanInsuranceStore.com
Copyright 2022 EPro Ins. All rights reserved.
Travel Safe With Quality Mexico car insurance! We Offer The Best Car Insurance for Mexico Online.
Review And Compare Multiple Mexican Car Insurance Rate Quotes and Options Today!
Quote, Buy And Print An A+ Rated Policy in Minutes!