Everybody loves to visit Baja California Sur. Despite being one of Mexico's most sparsely populated states, Baja California Sur (BCS for short) is packed with one-of-a-kind features.
BCS features Mexico's longest coastline at 2230 KM (1385 Miles). That's over 22% of the entire coastline of Mexico. Finally, BCS boasts the most islands in Mexico.
That's the hard data. Beyond that, BCS is really cool.
Do you love nightlife, nature, surf, sport fishing, camping, relaxation, or incredible tan lines? Who doesn't? You're in luck because BCS has you covered. So, starting from the north at Guerrero Negro to the tip of Land's End, let's take a trip south.
Guerrero Negro
If you're here, you really need to have a tourist visa obtained at one of the border crossings or in Ensenada. Right at the border is a military base that occasionally checks to see if you have your paperwork.
As you cross the state line, you see the Halfway Inn and the town of Guerrero Negro. Guerrero Negro is named for the American whaling ship that operated in the nearby bay for several years. Guerrero Negro is a perfect place to spend a night on the way south for salt and gray whales.
The Gray Whales come to the nearby lagoon to give birth and raise their young before returning north in the spring. During this time, make a point to go and see the whales. The locally owned and operated pangas get you right up to the whales. The whales come right up to the boats, often bumping them. Most of the time, they're so close you can pet them and make friends. Being so close to these magnificent creatures brings about a deep connection with them. Don't miss it for anything. Book your trip at the Halfway Inn, Malarrimo Hotel, or wherever you decide to stay.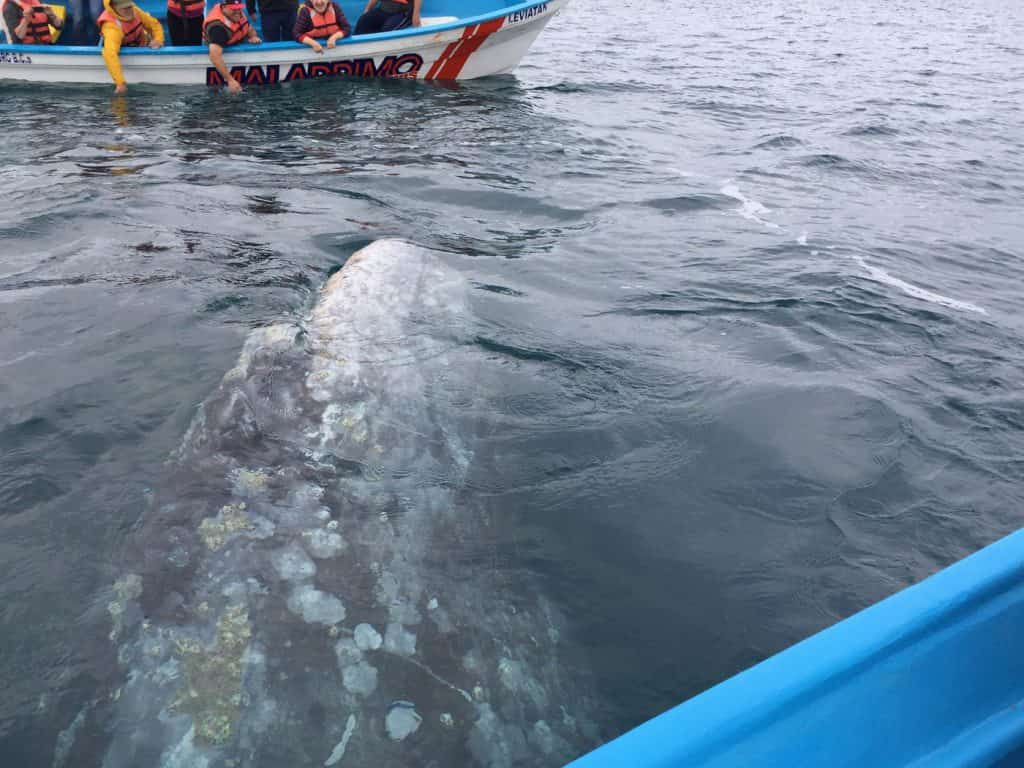 If you're looking for a nice dinner, the Malarrimo is the best restaurant in town. Besides great food, they feature many artifacts from the town's darker history as a whaling town.
Santa Rosalia
South of Guerrero Negro on the Sea of Cortez side of the peninsula is the town of Santa Rosalia (rosa-LEE-ah). It's notable for three things. Ok, four if you count a big gas station.
First, on the list, look for a unique steel prefabricated church a couple of blocks from the main road. It's well worth visiting. It's the Iglesia Santa Barbara. Gustave Eiffel designed the building in 1884. If the name rings a bell, it's the same person who designed and built the famed Eiffel Tower in Paris, France, and the Statue of Liberty. The 1889 Exposition Universelle of Paris featured many modern advances in construction, including this church.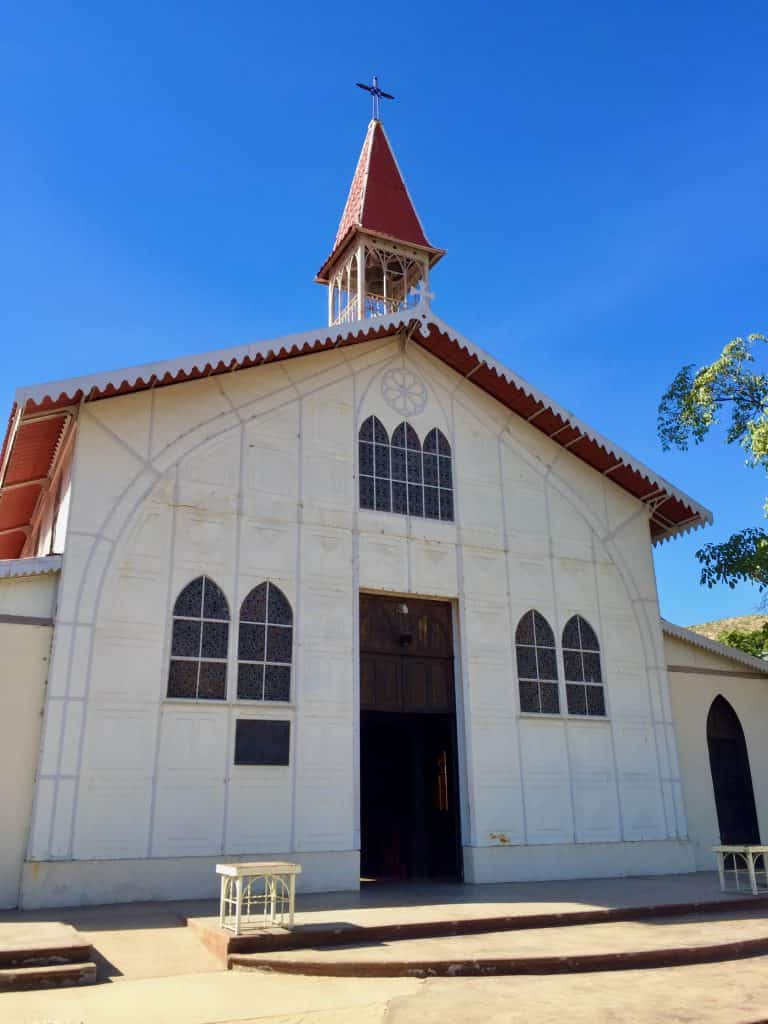 Across from the big gas station, on the main road in, is the hulking behemoth of a long-abandoned mining foundry. You're welcome to wander around but do so at your own risk.
Finally, Santa Rosalia is the port for the smaller ferry crossing between Baja California and the mainland. As of November 2020, a newer and bigger ship makes the 8-hour voyage between Santa Rosalia and Guaymas, Sonora, more comfortable. To make a reservation, you'll have to call or show up at the ticket office in person. +52 1 622-222-0204
Mulege
Imagine that idyllic situation where you are camping right on the beach with water lapping a few feet from your tent or vehicle. That's Mulege (Moo-La-Hay). The oasis town itself is tiny, but the coastline is exquisite.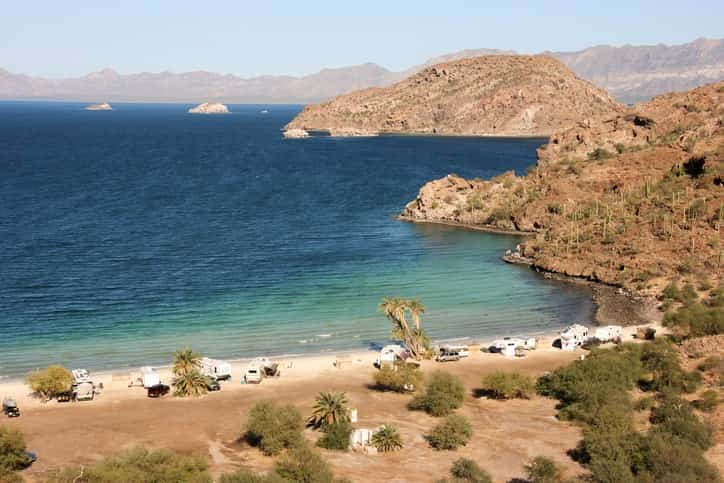 A curious fact is that nearly all the palm trees in Los Angeles, California, have their origins in Mulege.
Loreto
When you visit Baja California Sur, you have to travel through Loreto. Loreto is one of the most beautiful and enjoyable cities in BCS. Loreto features a picturesque Mediterranean-like marina and white sand beaches like that of the Caribbean. Hotels range from luxurious Hotel La Misión de Loreto to pleasantly affordable like the Hotel Plaza Loreto. Both are within walking distance of the marina and the civic plaza. The civic plaza features the best features of Mexico. Fabulous dining, coffee, and entertainment, and activities. Wonderfully absent are the annoying barkers, hucksters, and hustlers. Loreto is a classy town that is very safe, walkable, and memorable.
It's the perfect place to spend a night or plan a restful vacation.
La Paz
La Paz is a wonderful destination and deserves as much attention as Los Cabos/Cabo San Lucas. As the Capital City of BCS, it has many features that make it a desirable destination. Situated on the Sea of Cortez, La Paz offers excellent dining, shopping, beaches, and resorts. La Paz also hosts the primary terminal for the Baja Ferries. These run between Baja and the mainland. The ferry terminal in Pichilinque is only a couple of minutes out of town. That's also where you can catch a boat to take you to swim with the whale sharks. Yes, swim with sharks!
Whale Sharks are the world's largest fish. At up to 19m (5 stories), they are massive in size. Fortunately, they're harmless to humans. In addition to the whale sharks, you can also swim with sea turtles and other vivid marine life at Mexico prices.
Seaside resorts in La Paz are plentiful and are all excellent values. Costabaja Resort & Spa and Club El Morro are two of the best.
From La Paz, find isolated beaches to the north, east, and south. These beaches are wonderful. You'd enjoy the entire beach to yourself and even get to decide if you want tan lines or not.
Nearby La Paz is Todo Santos which features the 'Hotel California.' Though in dispute, the owners play an endless music playlist of versions of 'Hotel California' by The Eagles. Arguably, the greatest song about a brothel ever written.
There's so much to do in and near LA Paz.
Los Cabos/Cabo San Lucas
Los Cabos is the main International Airport travelers fly to from the USA. From there, it's a short hop to Cabo San Lucas.
Cabo San Lucas is busy, fun, and very commercial. That can be good or not so good, depending on your outlook and what you hope to get from your stay.
For example, Everything in Cabo San Lucas is in English, and most prices are in US Dollars. This makes it easy for travelers, but it also means you're paying a lot more than you probably would elsewhere. Cabo San Lucas is also the only location of BCS's Costco. Curiously, you get one of the best views on the land of the famed 'Land's End' point from the Costco parking lot.
One of the most exciting and fun ways to get close to Land's End and 'El Arco' is by taking a pirate cruise to the famed natural formation. Many movies, including the original 'Pirates of the Caribbean' feature El Arco. If you're wondering, Spanish galleons would stop at Cabo San Lucas to resupply on their return trip from the Philippines to Spain. The 'Golden Age of Piracy' largely centered in the Caribbean and the Eastern seaboard of the United States. That said, well-documented events of pirates, privateers, and their activities took place in these waters.
Nowadays, it's not pirates (real ones) patrolling the waters but sport fishing charters and cruise ships. Some of the greatest sport fishing in the world happens out of Cabo San Lucas.
Sure one can fly or hop on a cruise ship to Cabo San Lucas, but you'll be missing out on so much color, fun, and adventure. If possible, take 4 days from San Diego, California, to reach Cabo San Lucas.
Wrap up
There are a million great reasons to visit Baja California Sur. People like you drive cars and RVs and ride their motorcycles down the peninsula. You can too. No matter what you're in the mood for, when you visit Baja California Sur, you're going to have a great time!
Mexican Insurance Store.com has new lower rates and special discounts if you only travel to Baja, California. However, not all Mexican Insurance is the same. Make sure you get a policy that will co
Jim Foreman is the author of the story. He owns and operates Authentic Moto Travels. Jim extensively travels all over Mexico and loves the people, culture, freedom, and spirit of adventure found in Mexico.