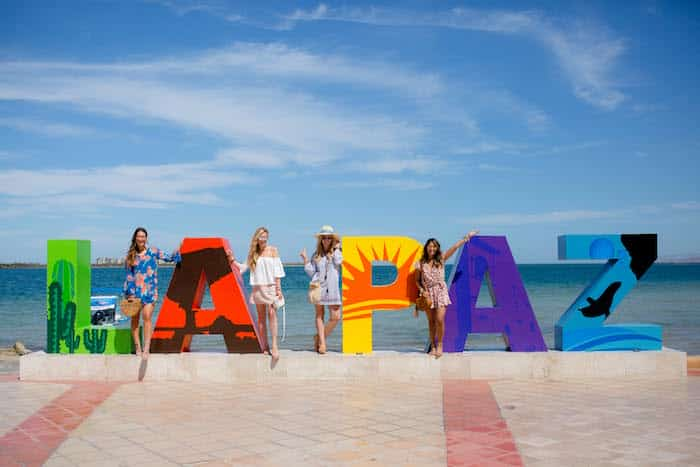 La Paz offers a ton of outdoor activities and beach fun without the burning sun and hassle. As always, Mexican insurance is required when driving anywhere in Mexico. If you forget to buy a policy ahead of time, it's fine to secure Mexico car insurance on your smartphone before crossing the border.
La Paz is cooler, in more ways than one
Located well south of the border, the city can still be hot. Most days though, you're unlikely to see scorching temperatures.  The ocean and sea breezes keep the ultra-high temperatures away.
Luckily, La Paz has an abundance of outdoor water activities. Sea kayaking and stand-up paddle boarding (SUP) are popular in the area.  One can go on day trips or even plan week-long excursions.  There's nothing like enjoying a pod of dolphins casually swimming around you. At night, everyone gets together and has fun, the way it should be.
Have you ever attempted to swim with Whale Sharks? It's an unforgettable experience. It seems scary at first, but give it a go.  You won't regret it. Espiritu Santo, a small nearby island teeming with dolphins, sea lions, and other marine life, is a natural ecosystem worth a visit. Of course, there's whale watching, in season! It's fun to simply stroll along the Malecón as well.
Some Tips You Can Use To Beat Summer Heat In La Paz
Here are some ideas you can use to beat the summer heat if you find yourself in this wonderful city. If you're hesitant to stay for the summer, this might help you.
Enjoy live music at one of the many excellent restaurants.  Keep the drinks coming and embrace the passion of the city.
Don't miss the ice cream along the Malecon.  Spend your evenings there, and listen to music from a number of free concerts.
Wear loose fabrics that are made from cotton or linen.  Make sure that the fabrics are lightweight and breathable.
Visit Tesoro beach and enjoy every bit of it, the food and refreshments, it is even better if you have children with you, they'll surely have a good time. Don't forget to dip yourself in the water as often as you can, it is a great way to beat the heat.
Question: Is Mexican insurance required across the border?
Some people think Mexico car insurance is optional because years ago, it was.  Mexican insurance is definitely required. Without a policy, you're in big trouble if you are involved in an accident.
Is anything else worth checking out?
Never forget that Google is your friend.  Assuming your phone plan includes Mexican data, utilize maps, and 'near me' requests for help.   It's useful to locate activities and restaurants to try, but prioritize the reviews in Spanish. That being said, the shopping is fantastic. The area features many local artists and jewelry merchants, so it's easy to find something to like, often at a bargain.