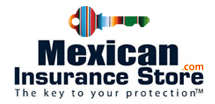 Strength and experience since 1979
We focus on Customer Service

1-888-800-9988 from US or Canada
ACE - CHUBB Standard Mexico Insurance Online Policy Features



Financial Strength. Count on it!


Highest Mexico insurance Global ratings across the board for financial strength and claims paying ability (As of June, 2016)

• A++ for financial stability — A.M. Best
• AA for financial strength — Standard and Poor's
• AA for insurer strength — Fitch

Third Party (Civil) Liability
This Mexico Car Insurance coverage protects you from property damage and bodily injury to third parties resulting from the use of the insured vehicle in a covered loss. With Mexican Insurance Store Mexico insurance you are protected for any combination of Bodily Injury or Property Damage up the limit of your policy.

Various liability limits are available: $50,000, $100,000, $300,000 and $500,000 Combined Single Limit.

Mexico Auto Insurance coverage fulfills your proof of financial responsibility under Republic of Mexico law. Be careful of the new Federal Law 502 liability limits in case of an at fault fatality. Each state has dictated financial responsibility requirements from $4,600 to $543,000 per fatality.




Physical Damage and Total Theft of Your Vehicle
"Full Coverage" Mexico Auto insurance protects your vehicle for total theft, collision, turnover, glass breakage, fire, lightning, explosion, and many natural disasters such as cyclones, hurricanes, hail and earthquakes. The coverage is subject to various deductibles. Towing expenses are covered in order to move the vehicle to a place designated by the company for repairs. This may include US repair. Partial theft and vandalism are excluded unless CHUBB Platinum Broadening Endorsement is chosen.

Medical Expenses for Driver and Occupants
This policy will pay medical expenses of the driver and occupants of the vehicle for injuries sustained in a covered accident. Two limits are available: $2,000 per person up to $10,000 per accident, and $4,000 per person /$20,000 per accident. Larger limits are available with the Platinum Package. MOTORCYCLES ARE NOT ELIGIBLE FOR MEDICAL EXPENSE COVERAGE.


CHUBB Platinum Assist Travel Assistance Services Provide Help Throughout All Of Mexico 24/7 With all CHUBB Policies
Legal assistance up to the liability limit and bail bond up to $30,000.
Comprehensive Roadside assistance.
Medical and Travel Assistance and references.
Tourist information.
Transmission of urgent messages.


Roadside, Medical And Legal Assistance Features

CHUBB Platinum Policy Broadening Endorsement Features
CHUBB Platinum Policy features:
Collision with Uninsured Motorist - Physical Damage to your vehicle
At-fault Uninsured motorist medical payments coverage,
Partial theft and vandalism,
Fixed minimal deductibles,
Increased medical payments for occupants and
Higher liability limits and
Increased hourly repair rates for damaged vehicles.
Standard Coverage With Platinum Broadening Endorsement
For an Instant Mexico insurance Quotation with Multiple Options go to Car Insurance For Mexico
Mexican Auto Insurance Products Information - Compare Best Mexico Auto Insurance Features. We provide comprehensive Mexican Auto Insurance, Mexican Car insurance, Insurance for Mexico, Canada and US tourists. CHUBB Mexican Automobile Insurance, Review Best Quality Benefits
National Producer License # 2663714, California License # OC24601
3819 Saint Austell Way

,

Perris

,

California

92571
Contact:

888-800-9988

| 951-657-4220
Fax: 626-638-3255
info@MexicanInsuranceStore.com
Copyright 2021 EPro Ins. All rights reserved.
Travel Safe With Quality Mexico car insurance! We Offer The Best Car Insurance for Mexico Online.
Review And Compare Multiple Mexican Car Insurance Rate Quotes and Options Today!
Quote, Buy And Print An A+ Rated Policy in Minutes!