Although you might love the idea of an exotic getaway to a golf resort in mainland Mexico, you might not have the time available to make such a trip. However, a quick trip over the border puts you close to several golf courses in Baja Norte, allowing you to get your fill of the sport without having to drive at length or spend a fortune. In addition, you don't want to skimp on Mexico insurance for driving because you want to guard against accidents and roadside emergencies. Therefore, if you plan to travel to the area frequently, we recommend long-term Mexico auto insurance for your convenience.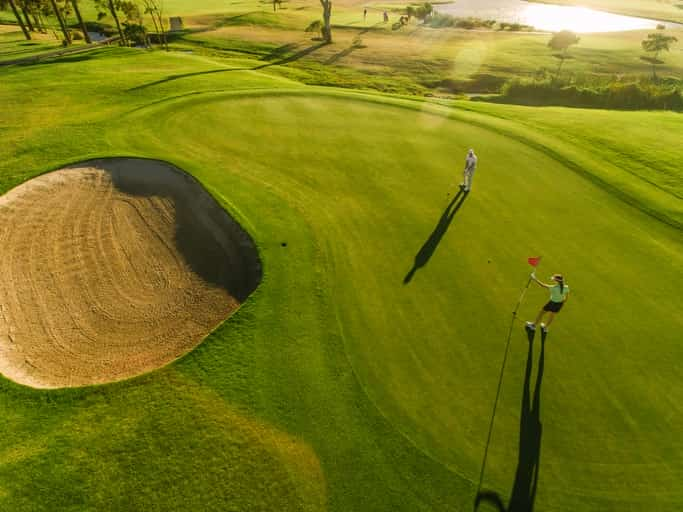 Golf course top view with players—aerial view of golfers on putting green.
Golf communities
You may want to explore a golf community in Baja Norte as you consider finding a vacation home that will allow you to stay and play to your heart's content. You'll find that some such communities have lots that are ready to develop. You may also find rental homes if you would like to stay for a week or two to get a feel for the community.
Being located close to the border allows you to keep track of your vacation home as you continue with your activities of daily living at home. You might eventually transition to snowbird living or full-time living in the area, but you don't have to make that decision immediately. If you do invest in a lot, you may want to bring your golf cart. Pro Tip: Mexico insurance for driving is now required to use the toll roads, so pick up Mexico auto insurance before leaving

Golf resorts
You may want to invest in a week or a few days of golf from time to time, making golf resorts in Baja perfect. You'll find that rates are varied to reflect high-demand times, and you may want to schedule your stay to take advantage of low-cost activities. Twilight golf, for example, is more affordable than a weekday round. Staying overnight is recommended for safety reasons.
Even with Mexico insurance for driving, should you drive at night?
Your Mexico insurance for driving may help in case of a night driving emergency. Still, even with quality coverage, it can be dangerous to go on these unfamiliar roads during night hours.