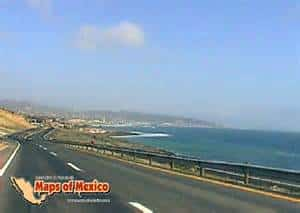 Pacific Coast Highway, Baja
Top-rated Mexican insurance for tourists – Baja Bound: Weather Expectations for the Spring Months
After last fall's hurricane issues in the Baja Peninsula, you may wonder about weather concerns for your upcoming plans to explore the area. Fortunately, hurricane season is still a long way off, but it is important to know what you are getting into as far as temperatures go. Your   top-rated Mexican insurance for tourists won't help with weather issues, but it will ensure that you are protected in case of certain weather-related road problems. Additionally, traveler support features of your Mexican online insurance allow you to get area-specific information if you need help. Top-rated Mexican insurance for tourists is also a good idea because it is now required in order to drive on any highway in Mexico.
Weather and the Roads
Spring months can include rain, making it important to be prepared for occasional wet weather. Although the weather forecast may seem to indicate clear weather, things can change unexpectedly. The roads can be affected in various ways. You may face flooding in communities that have poor infrastructure. You could also deal with towns being cut off in cases of major storms. The Ensenada toll road has just barely been re-opened after almost a year of closure due to water damage that caused a collapse. Be aware in especially rainy conditions, and consider finding a safe place to wait out a major storm. If you do end up in unusual emergency circumstances, you will want to review your documents for your top-rated Mexican insurance for tourists. Programming contact information into your wireless phone may be helpful because your Mexican online insurance includes emergency support and bilingual communication options if you are stranded.
Wind Advisories
It's pretty difficult to find up-to-date information in English for current weather conditions, but you can expect frequent high winds in Baja, especially in coastal areas. It's not uncommon for huge windstorms to crop up, driving dust and creating visibility issues. These situations rarely make it impossible to proceed with your travels, but you will want to be wary if you are driving a high-profile vehicle. Top-rated Mexican insurance for tourists is often issued to those traveling in multi-passenger vans and RVs, both susceptible in windy situations.
Fog
Morning fog in Baja is common, affecting visibility on Highway 1. Be prepared to wait such conditions out if visibility is extremely bad. Typically, the mid-morning sunshine will eliminate much of the fog as conditions warm up.
Top-rated Mexican insurance for tourists from MexicanInsuranceStore.com comes with roadside assistance, legal, and repair in the US
Learn more about Mexican online insurance to save money with better coverage