Are you looking for a deal on Mexican insurance from MexicanInsuranceStore.com? You definitely won't find savings if your purchases are made at the last minute with a border booth. One of the most important keys to finding great deals on anything is doing some research. The same goes with a Mexico car insurance policy at MexicanInsuranceStore.com. The more you evaluate the options, the better your decisions will be when the time comes for you to make a purchase. This concept applies whether you plan for an upcoming weekend trip or need a full year of coverage. For frequent travel plans, you can find quotes and compare policies online right now.
Upfront costs
Many people look at the bottom line in determining whether a price is reasonable or not. While the price is an integral part of buying Mexican insurance from MexicanInsuranceStore.com, it is essential to remember this. The policy received also needs to carry value. If you buy the cheapest type of product at a grocery store, you may find that the quality is inferior to that of a product with a slightly higher price. Conversely, you may also find that the policy's most expensive version isn't significantly better for your needs than the basic version. A Mexico car insurance policy is no different.
Mexican insurance is required!
It would be best to have a Mexico car insurance policy with sufficient liability coverage for the states you will visit. Mexican insurance from MexicanInsuranceStore.com And Policy Comparisons includes extras:
Roadside emergency support – Contact a bilingual representative for help with a lockout or a breakdown

Legal representation – Includes legal assistance if you are dealing with authorities after an accident

Bail – Bond coverage to get you and your car out

Medical help – Assistance in cases of grave illness that impedes travel

Trip continuation – Get a rental car to continue your travels if your vehicle is out of commission because of a wreck

Travel interruption – Airfare to get home if they cancel your travel plans because of an accident
Of course, you can obtain additional value with a full-coverage Mexico car insurance policy, making it essential to review all options available.
Mexican insurance from MexicanInsuranceStore.com And Policy Comparisons gives you peace of mind!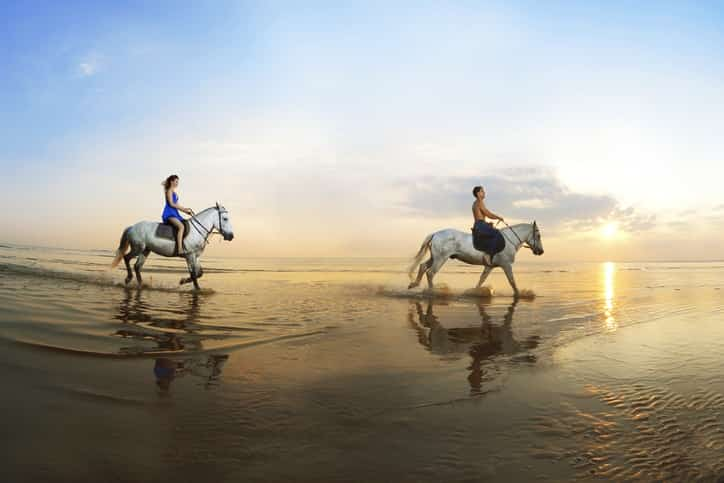 Horseback riding, Rosarito Beach