A trip to Mexico may provide you with a new perspective on Mexican food, especially if you try different varieties of familiar favorites like tamales. The food may appear on a Mexican restaurant's menu with the simple choice of pork or chicken, but the reality is that this food can range from sweet to savory, red to green, or healthy to fatty. Check your Mexico auto insurance policy before you set out to ensure that it is current and that your liability limits match the recommendations for the area you will visit. If you still need to obtain comprehensive Mexican car insurance after leaving, you can do so on an iPhone or other mobile device.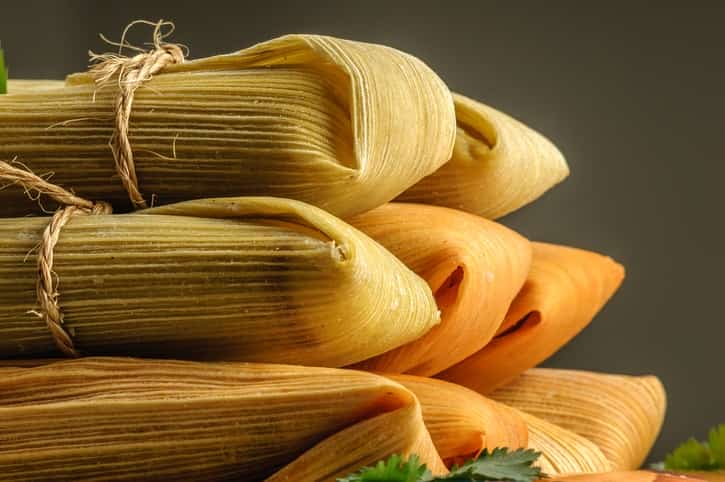 Tamales, Mexican dish made with corn dough, chicken and chili, wrapped with a corn leaf
Tamale styles
Your lessons in dealing with tamales can start with wording if you are a visitor to Mexico. Most English speakers will transition from the plural, tamales, to a singular reference of tamale. However, the correct singular in Spanish is tamal. If you only want one, order un tamal to sound more knowledgeable.
One of the most common variations in the preparation of tamales is the covering. While you may be familiar with corn husks used to hold tamale, many of those from southern parts of Mexico will use banana leaves in their preparation. What you might not know is that you can use this trick to re-think your own preparation at home. Use parchment paper or foil if you don't want to fuss with corn husks.
Another important variation is the fillings and seasonings. Red chiles are often used to season the meat and masa used for tamales. However, green chiles can also be used. Sweet tamales can be made with corn, pineapple, or strawberries. Let your Mexican experience prompt even more creativity as you consider working with fruits like mangoes or with other vegetables.
Pro Tip: Authorities require a Mexico auto insurance policy to drive on the toll roads, so buy Mexican car insurance before leaving!
What kind of Mexico auto insurance policy should I pick up?
Your coverage can range from a liability level of $50,000 to $500,000. It may be tempting to select low-coverage Mexican car insurance to keep your costs low. However, inadequate coverage could leave you facing high bills that keep you in Mexico after an accident. A policy that covers vandalism and partial theft is a good idea. This is especially true if you travel in large cities or areas that are well-known for these issues.