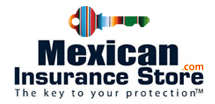 Strength and experience since 1979
We focus on Customer Service

1-888-800-9988 from US or Canada

15. How Much Does Mexican Insurance Cost?


You can buy a Mexican insurance policy for any length of time up to 1 year. This means days, weeks , 6 months or one year policies are available at different costs. The price of most policies is based on the length of time you wish to be insured. A daily rate; a 6-month rate, or an annual rate is offered on each quotation. It's usually less expensive to buy daily rated policies if you plan on being in the country for less than 22 days. If you plan to be in Mexico for more than twenty days, you should consider buying a six-month Mexican car insurance policy. It's an affordable option and it gives you more flexibility.

The cost of a policy will vary depending on a few factors. For best results, you should get a quote from us as we offer only the best programs from the most financially solid Mexican insurance companies. To give you a ballpark estimate about how affordable these Mexican car insurance policies can be, a yearly "Liability Only" Mexican car insurance policy begins at just $142.

Policies are available from 1 day to 365 days. The cost of a full coverage policy depends on the ACV (Actual Cash Value) of your vehicle and how long you want coverage to last. Many policies are daily in nature, but after 22 days it is usually a better choice to purchase a 6 month plan. A one year plan is 15-20% more than 6 months.
We offer CHUBB, (A++) Rated, HDI (A+) Rated, and MAPFRE (A) Rated. These are strong insurers with $50 Billion To $150 Billion in assets and strong reputations for paying claims professionally.

In the United States and in Canada car owners usually worry about the exposures to Bodily Injury, Property Damage and Theft in that order of priority. In Mexico, generally, it's best to worry about Theft, Partial Theft and Vandalism, Bodily Injury Fatality Limits, and Property Damage in that order of priority. Consequently, covering Physical Damage to your Vehicle and Theft coverage comprises a good portion of each policie's premium. Although rare, be advised that all Mexican insurance companies can legally assess a penalty if you undervalue your vehicle severely and get into an accident. For example, if you insure your vehicle for 50% of its value, because that's what you owe, Mexican car insurance companies can give you a penalty on any loss, because normally you are required to insure at least 80% to value.
National Producer License # 2663714, California License # OC24601
3819 Saint Austell Way

,

Perris

,

California

92571
Contact:

888-800-9988

| 951-657-4220
Fax: 626-638-3255
info@MexicanInsuranceStore.com
Copyright 2021 EPro Ins. All rights reserved.
Travel Safe With Quality Mexico car insurance! We Offer The Best Car Insurance for Mexico Online.
Review And Compare Multiple Mexican Car Insurance Rate Quotes and Options Today!
Quote, Buy And Print An A+ Rated Policy in Minutes!