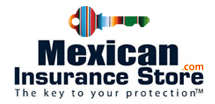 Strength and experience since 1979
We focus on Customer Service

1-888-800-9988 from US or Canada
10. I've heard about Mexican Insurance legal aid and bail bond coverage. Can you explain it to me?

Traffic accidents are treated a lot differently south of the border than they are in the United States and Canada. For all intents and purposes, they are treated as felonies. Mexican law is based on Napoleonic Code; U.S. and Canadian laws are based on English Common Law. In the latter case, a person is innocent until proven guilty; in the former, they are assumed guilty and must prove their innocence.

For visitors to Mexico, then, a traffic accident can result in some immediate problems. Whether you are at fault or not, you could end up unable to leave the country and being detained until the authorities figure out how damages will be covered. Similarly, your car could be impounded.

A Mexican insurance policy that includes legal aid and bail bond coverage will come quite in handy in the event of a south-of-the-border fender bender. With it, you'll have access to an attorney through your insurer. That attorney will be able to negotiate on your behalf for the release of you and - your car.

Every single Mexico insurance policy that is offered through Mexican Insurance Store includes legal aid and bail bond coverage. It is important to note that probably 70% of the marketplace does NOT include Bail Bond with their Legal Coverage (if they cover legal at all) and that this could save you $5,000 in cash expenditure. If something serious happens south of the border, you won't be stranded or left to manage on your own. Hopefully, you'll never have to make use of such Mexico insurance services; if the need arrives, though, you'll be mightily glad to have purchased your Mexican Insurance Store policy through us.

Additional Notes: It is considered a felony to have a traffic accident South of the Border. While the police are concluding their investigation, your vehicle could be impounded and you could be detained by the authorities. With Legal Aid, you have accessibility to an attorney hired specifically for this purpose by your insurer who will assist you and negotiate for you and your car's release. This is the reason it's important to keep your Mexico insurance ID Cards in your wallet or purse in case you are separated from your Mexican insurance policy and you need help.


Many Agents sell Mexico insurance coverage without legal protection and without Bail Bond protection (which can cost $5,000 immediately). All Mexican Insurance Store policies Include Legal Assistance AND Bail Bond .


If you happen to be involved in a vehicular accident on Mexico soil, it is vital that you report it to the authorities ASAP, and always before leaving Mexico if you want your claim to be taken seriously. Do otherwise and your Mexico Insurance company has no legal obligation to pay any loss even if your claim would have been covered.
National Producer License # 2663714, California License # OC24601
3819 Saint Austell Way

,

Perris

,

California

92571
Contact:

888-800-9988

| 951-657-4220
Fax: 626-638-3255
info@MexicanInsuranceStore.com
Copyright 2021 EPro Ins. All rights reserved.
Travel Safe With Quality Mexico car insurance! We Offer The Best Car Insurance for Mexico Online.
Review And Compare Multiple Mexican Car Insurance Rate Quotes and Options Today!
Quote, Buy And Print An A+ Rated Policy in Minutes!