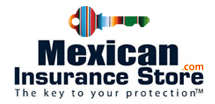 Strength and experience since 1979
We focus on Customer Service

1-888-800-9988 from US or Canada
11. Is It OK To Cover A Mexico Plated Vehicle?


NO. Mexico vehicles are excluded from this program. "Tourist" Mexican car insurance policies and services provided by this program are designed specifically for visitors driving outside their country of residence to Mexico with U.S., Canadian, or other foreign plated vehicles (Example: The Country of Belize or Great Britain). Republic of Mexico plated vehicles are strictly prohibited, as Mexico plated vehicles are resident vehicles and not tourist vehicles.
National Producer License # 2663714, California License # OC24601
3819 Saint Austell Way

,

Perris

,

California

92571
Contact:

888-800-9988

| 951-657-4220
Fax: 626-638-3255
info@MexicanInsuranceStore.com
Copyright 2021 EPro Ins. All rights reserved.
Travel Safe With Quality Mexico car insurance! We Offer The Best Car Insurance for Mexico Online.
Review And Compare Multiple Mexican Car Insurance Rate Quotes and Options Today!
Quote, Buy And Print An A+ Rated Policy in Minutes!