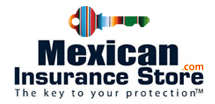 Strength and experience since 1979
We focus on Customer Service

1-888-800-9988 from US or Canada
17. We're going to have two drivers or registered owners during our Mexican vacation. How will our Mexican insurance policy be handled?


The registered owner of the insured vehicle must be listed on the Mexican insurance policy that you purchase through Mexican Insurance Store. As long as they have valid driver's licenses and the car owner's permission, all drivers 21 years of age or older are covered under the policy by default. To make things easier for you - especially in the event of a accident - we leave enough room to include two additional names on each Mexican insurance online policy, at no additional charge.

Any driver with a valid driver's license, and the owner's permission to drive who is at least 21 years of age is covered. Having said this, we included enough space within the named insured field to accommodate two addition drivers names in order to make it easy for the authorities to verify coverage should there be an accident. There is NO extra cost to add additional eligible drivers.
National Producer License # 2663714, California License # OC24601
3819 Saint Austell Way

,

Perris

,

California

92571
Contact:

888-800-9988

| 951-657-4220
Fax: 626-638-3255
info@MexicanInsuranceStore.com
Copyright 2021 EPro Ins. All rights reserved.
Travel Safe With Quality Mexico car insurance! We Offer The Best Car Insurance for Mexico Online.
Review And Compare Multiple Mexican Car Insurance Rate Quotes and Options Today!
Quote, Buy And Print An A+ Rated Policy in Minutes!