Photo: Tamara Bellis – This is what most people think of when they hear 'Chihuahua.'


Travel Mexico – Chihuahua – Mexican Insurance Store
When someone suggests you visit Chihuahua, do you immediately think of the dog breed? But, unfortunately, for many Americans, that's exactly what happens.
Chihuahua is Mexico's largest state. It's due south of New Mexico and half of Texas. Though it has no seaside beaches, it is home to the Copper Canyon. For those who genuinely love Mexico, Chihuahua is a magical state.
Copper Canyon (Las Barrancas del Cobre)
Ask any American what North America's largest canyon is. Most people will confidently say, "Grand Canyon" in Arizona. That's incorrect. North America's largest canyon is Copper Canyon in Chihuahua.

Copper Canyon is quite different from Grand Canyon in many ways. Most noticeably, Copper Canyon is very green. There are many similarities too. Both have passenger trains traveling alongside the canyon. They also share over 2000 years of Native American and Pre-Hispanic history. Grand Canyon and Copper Canyon have 'Gateway Cities.' They are Flagstaff in Arizona and Creel in Chihuahua, respectively. Finally, both canyons feature an excellent visitor center.
Adventure Park Thrills – Divisadero
Copper Canyon features several attractions and opportunities that are impossible at Grand Canyon. For example, have you ever wondered what it would be like to zip-line into a canyon? Find out at Copper Canyon. In addition, copper Canyon offers one of the world's most extended zip lines. There are two lines in parallel. This way, you and a friend or partner can ride together. The zip line runs over 1.5 miles deep into the canyon.
If you love zip lines and eagle-eye canyon views, you can enjoy another series of seven zip lines. Both runs are found at the Parque Aventura Barrancas del Cobre.
Some may desire the same views at a slower pace. Because of this, guests can ride the cable cars down into the canyon. Either way, the view is breathtaking, and the experience is unforgettable. These attractions alone make a visit to Chihuahua worthwhile.
The Zip Rider at Copper Cayon is the second-longest Zip Line in the world.
Thrill-seekers and adventurers also hike, mountain bike, climb, and raft in the canyon below.
There are so many activities to enjoy in Copper Canyon. To enjoy it all, one should plan to stay overnight. Several hotels along the canyon rim are available. They are lovely in ways that can't compare in the USA. No one should miss the sunset and sunrise over Cooper Canyon.
El Chepe (Chihuahua Pacifica Railroad)

If one can't miss an activity in Mexico, it's a train ride aboard El Chepe. The route takes you through some incredible places. El Fuerte is the birthplace of Zorro. Bahuichivo dates back to 1680. You'll find a beautiful mission, wineries, and activities like birding and horseback riding. It's also the mouth of the magnificent Cascada de Basaseachi. Of course, no visit to Chihuahua would be complete without a run on El Chepe.
Divisadero is the location of the Parque Aventura and Visitor's Center for Copper Canyon. Creel, a Pueblo Magico, is a charming town with a rich pre-Hispanic Raramuri culture. Nearby, you can visit the valleys of the frogs (ranas), monks (monjes), and mushrooms (hongos). These are named because they resemble rock formations. While there, also visit the San Ignacio Mission and Arareko Lake.
Considered on par with the trains through Switzerland, El Chepe is a wonder of beauty and engineering. Find out more and book your trip soon with El Chepe.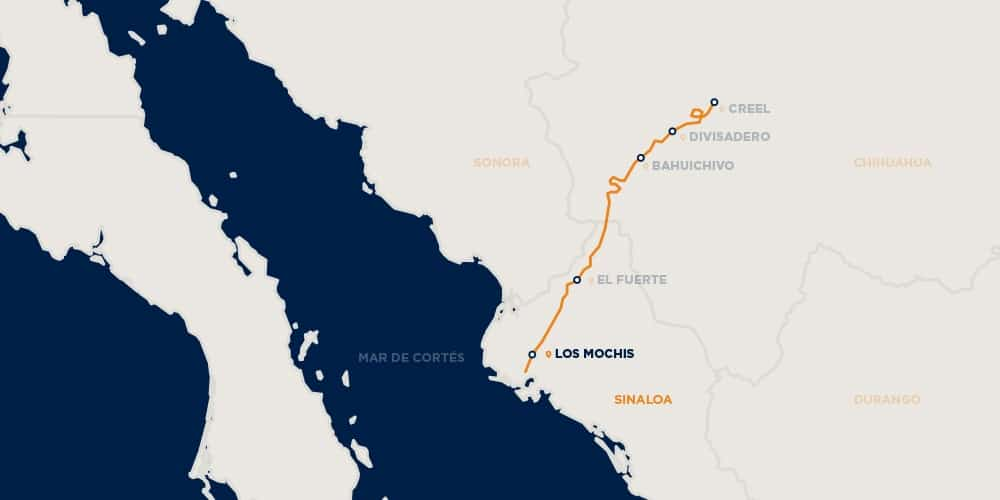 Cascadas de Basaseachic
Have you ever wondered where to find the most beautiful place on Earth? In the northwest corner of Copper Canyon, you'll find Las Cascadas del Basaseachic. The photo below is unmodified. This region features Mexico's tallest and second-tallest waterfalls. The waterfall in the image is the second tallest. Getting to this perfect vista point is easy. Modern trails are built that allow even elderly visitors to enjoy the sights and sounds.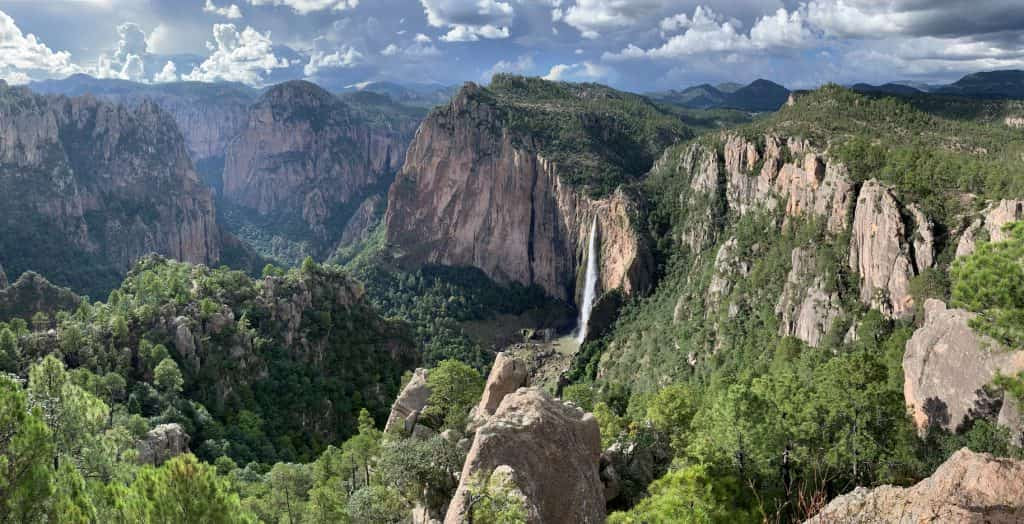 Since some want more adventure, there are several more intense hiking trails. If you plan correctly, you can hike to the bottom and back up in a day. However, reaching the tallest waterfall requires a rugged multi-hour hike.
Overnight accommodations are available nearby, but we strongly recommend Rancho San Lorenzo Basaseachi. The off-the-grid cabins are perfect for enjoying the sights and sounds nearby.
Visit Chihuahua
The City of Chihuahua is much more than the capital. It serves as a crossroad between the rich history of Mexico and its bright and modern future.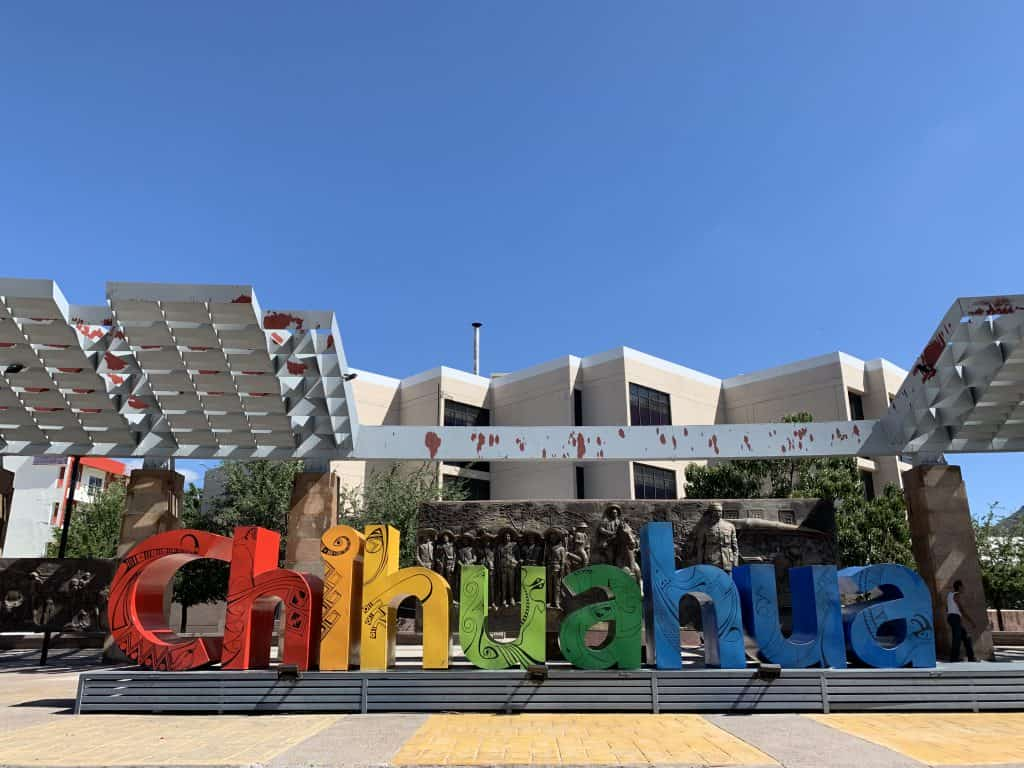 Whether shopping, fine dining, recreation, or adventure, Chihuahua delivers! Chihuahua is an excellent base. Everywhere one looks, opportunity and pleasure capture the eye.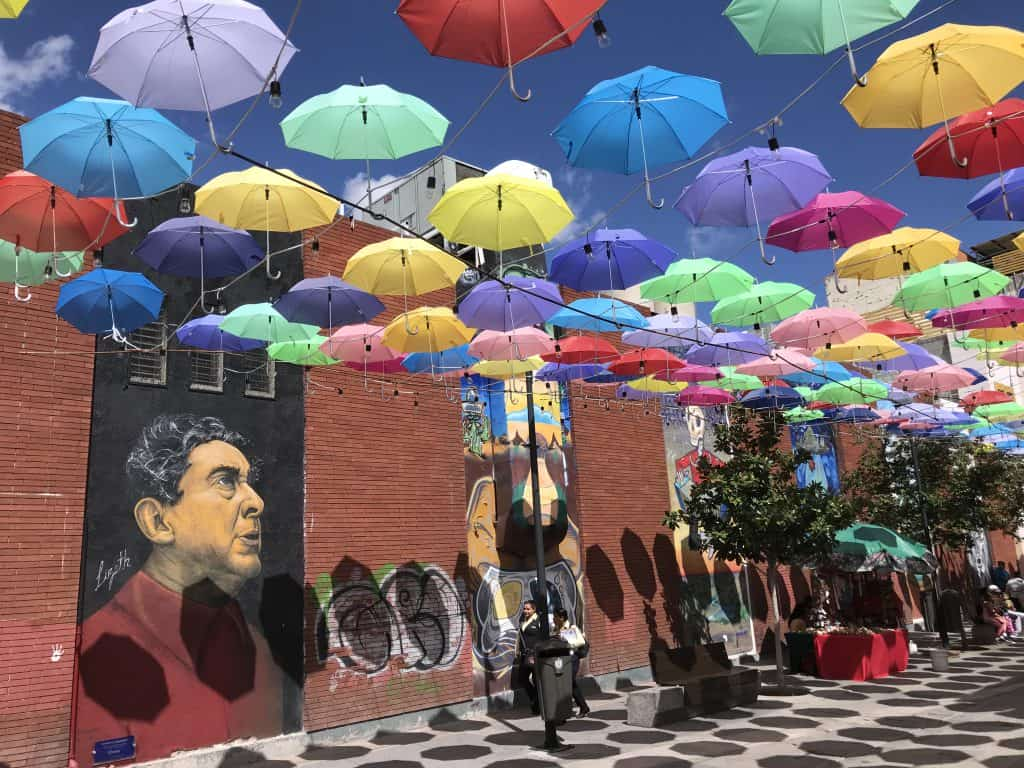 Enjoy a stroll through streets draped with umbrellas or visit one of the finest museums of revolutionary legend, Pancho Villa. Most visitors quickly point out how nice Chihuahua is compared to expectations.
Restaurants to enjoy include La Mansión, El Poeta, and Los Cinco Panes. If you're craving international cuisine, Chihuahua is your happy place. A favorite is Garufa. It's probably the best Argentinian restaurant outside of Argentina.

Hotels are plentiful and reasonably priced. Use your favorite booking app to find one in your preferred location and budget.
Chihuahua makes good use of its size and offers terrific places to enjoy when you visit Mexico. Visit Chihuahua.
Mexican Insurance Store.com, a local favorite, is the #1 Mexico car insurance provider in California's 3rd most populous metropolitan area and the #1 Mexican Auto Insurance Site on Google. Mexican Insurance Store.com, una opción popular entre los locales, es el PROVEEDOR #1 de pólizas de seguros de vehículos en California. (15 millones de personas en el Inland Empire) 
Travel Mexico – Chihuahua – Mexican Insurance Store
Best 3 Mexico Nature Lover Destinations – Mexico Insurance News and Information Guide