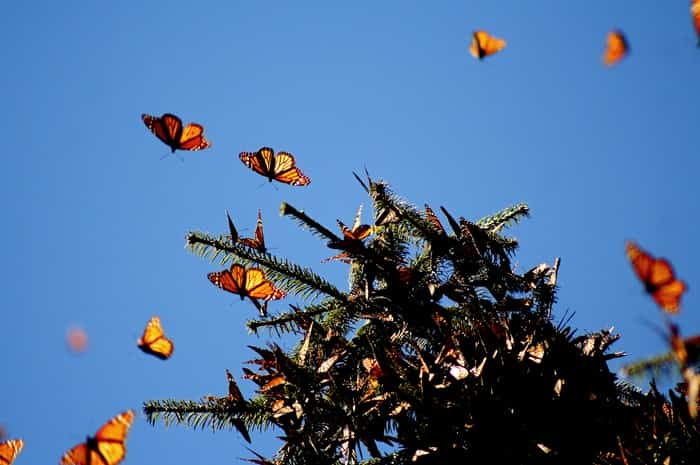 If you haven't heard, logging poses an existential threat to the famous monarch butterfly. The illegal practice could affect your ability to cross the border and visit the groves. I was shocked to learn Mexico lost five times as many trees to stoms! This could have more serious implications for those tracking the life cycles of the monarchs. If you plan to visit Mexico during the migration season, now is a good time to make travel plans. Therefore, COVID-19 problems withstanding, you're going to need Mexican auto insurance. You can check out Mexico insurance coverage as you read about the dangers faced by the butterflies.
Storms Blamed for Severe Drop in Monarch Population
The storms occurred in March of 2020 as chilly weather and hefty winds battered the area. As a result more than 1000 acres of trees connected to monarch migration perished. Additionally more than 6 million butterflies also died due to freezing temperatures or other conditions. Later in the year, a drought contributed to further losses. Road trip tip: Mexican auto insurance covers multiple drivers, so share the cost with friends and save money!
Finding Time to View the Monarchs
The butterflies spend the winter months in Mexico, and October marks the beginning of their transition as they travel south. The Biosphere Reserve is located in the Mexican state of Michoacán, which borders the state of Mexico. There are various routes to reach the area depending on where you begin.
Is Mexican auto insurance really required? (Duh)
After safely figuring out travel time, you should definitely secure Mexico insurance coverage. Travel to Michoacán involves driving through multiple states by automobile. In conclusion, it is wise to buy authentic coverage. However, you need to look at what you're buying. Some benefits are limited to only a few individuals in certain policies. Above all you need to review all the scenarios before finalizing your adventure.