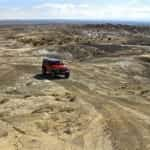 Mexican Insurance for Off-Roading – What Is Available?

Off-road activity on a four-wheeler can be a lot of fun, but you do need to be aware of the risks and responsibilities associated with such behavior in a domestic or foreign situation. When you drive in Mexico, you are subject to the Napoleonic system of law, which involves a presumption of guilt for those who are involved in serious situations like car and four-wheeler accidents. Mexican law requires licensed off-road vehicles driving on conventional roadways to carry proper coverage for driving on conventional roads, but you will find that Mexican insurance for off-roading is excluded on all Mexico auto insurance policies in the industry. You can find Mexico auto insurance that will cover off-road vehicles that are properly licensed, but this covers the use of such vehicles only on conventional roads.
What Happens if I Get in an Off-Road Accident in Mexico?
Since you can't obtain Mexican insurance for off-roading, any off-road activity will occur at your own risk. Hopefully, nothing will go wrong. However, you need to recognize that you are taking a chance if you drive your car into an off-road setting. If you are in an accident in this situation, you will not be able to submit a claim for damages to your own vehicle. If you cause damages to another party or vehicle while you are driving in an off-road setting, you can be held accountable by the authorities to compensate the other party and you have no insurance protection. Your Mexico auto insurance will be voided if you are in an off-road accident, meaning that you won't even be in compliance with Mexican law for conventional roads after such an incident.
Motor vehicle accidents aren't the only reason that a lack of Mexican insurance for off-roading is a problem. The weather or the rugged conditions of the land can also create serious problems if you get your vehicle stranded or damaged in a non-automotive incident. The roadside support services normally available with your policy are not available for situations that are in off-road areas. If your vehicle can be rescued, it will be at your own expense. Your vehicle getting stuck on a beach while the tide comes in is one excellent example.
Mexican Insurance for off-roading is simply not available
Many tourists plan for off-road activity with their ATVs, and towing these units should be included on your policy. You just need to recognize that common sense is important and that legal and financial consequences for problems will be yours to deal with in an off-road incident.
Mexican Insurance for off-roading doesn't work, but roadside support services are covered while driving on conventional roadways. All MexicanInsuranceStore.com policies provide roadside assistance throughout all of Mexico at no additional charge.