Mexico Insurance and Travel Documents Required To Enter Mexico
If you intend traveling to Mexico by air, it is mandatory for you to have a passport, according to the Western Hemisphere Travel Initiative. However, if you choose to travel by sea or land, there are a few other travel documents that you can make use. There are different types of documents, depending on your status and the country you are a citizen of. Also remember a Mexico insurance policy is now required in order to drive on Federal highways in Mexico.
US Citizens:
US citizens have various options.
Passport
A passport is always the best proof of citizenship and form of identification. If you can obtain a passport in time for your trip, this is definitely the best option. If you are travelling by air, a passport is a requirement.
US citizens who are unable to obtain a passport or who do not wish to make application for one can use some of the other options.
Passport card
A passport card is viewed as a substitute for a passport. It is issued by the US Department of State, is the size of a credit card and can be used to enter Mexico by sea or land. This card is not acceptable if you intend traveling by air.
Enhanced Driver's License
An Enhanced Driver's License serves as proof of identity and citizenship. These are special driver's licenses which are only available in certain states. It is valid for travel to Mexico by sea or land, but cannot be used for air travel.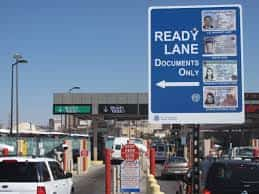 SENTRI card
The SENTRI Card is available to travelers who cross the US border with Mexico on a regular basis. It is issued by the US Customs and Border Protection. The card is valid for use for a period of five years. It has the added advantage of gaining access to dedicated commuter lanes when you cross the border.
FAST card
The FAST card is available to commercial truck drivers. It is a pre-approved card for those truck drivers traveling between the US and Canada, and the US and Mexico.
US Permanent Residents
If you have permanent residence in the US, you will require a passport to enter Mexico. You will also require an I-551 Permanent Resident card to be allowed to re-enter the US.
A valid Mexico insurance policy is now required in order to drive on Federal highways in Mexico.
Increasingly authorities are asking to see a copy of your Mexico insurance policy at various locations as you drive throughout Mexico
Canada and other countries
Canadians require a passport for travel to Mexico.
Citizens of other countries require a passport for entry into Mexico. There are certain countries that may require visas as well.
It is vital that you obtain the correct identification and travel documents if you are planning a trip to Mexico. You do not want to arrive at the border and be refused entry, after all the time you spent planning your trip.
Another consideration you have to bear in mind if you are going to travel to Mexico by land is Mexico insurance. Your current car insurance policy is not valid in Mexico. Your current policy may offer you some collision protection, but is often limited and will not cover you for ANY liability damages if you are unfortunate enough to be involved in an at-fault accident.
You should think carefully before you make a final purchase of Mexico insurance. You should obtain adequate liability cover as you do not want to end up in a jail cell due to insufficient cover.You may click here to purchase your Mexico insurance.
The best option is to purchase Mexico insurance online, due to the ease of the transaction, certainty of price, lower fees and more comprehensive coverage.