Mexican auto insurance for travel – Planning Your ATV Adventure in Mexico
While you may be aware of the requirement for Mexican auto insurance for travel, you might wonder how your ATVs are affected when you travel south of the border. Each provider of Mexico insurance for tourists has different requirements and options related to any auxiliary vehicles, especially those intended for off-road activity. In all cases, off-road activity is not covered. However, some providers may cover your off-road vehicles on normal roads. Don't assume that you are covered without investigating and asking questions.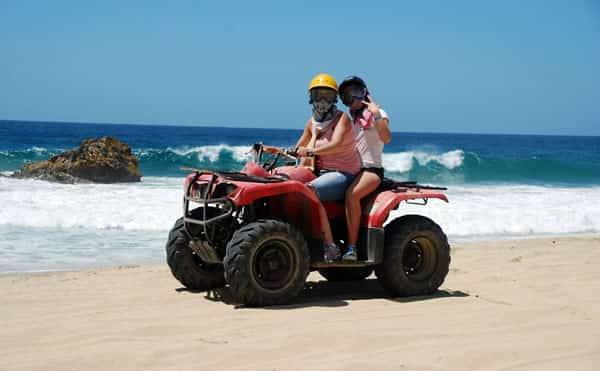 Towing Coverage Is Crucial
If you are towing your ATVs, golf cart, or other off-road vehicle, your coverage needs to include the identity of these items for liability purposes. Failing to include adding units towed can be a financial misstep because your entire Mexican auto insurance for travel can be cancelled in an accident if you don't list any trailer or towed unit. The specific trailer must be listed and any off-road vehicles should be designated. One policy cannot be written to generically cover all possible configurations. While this may not be an issue for many, the person who has more than one vehicle to take south may need to pay very close attention to this detail to avoid confusion and chaos in the unfortunate event of a wreck. Ask for help if you don't quite understand it.
ATV and Other Off-Road Coverage
Most providers do not offer ATV or golf cart options in Mexican auto insurance for travel. However, providers such as HDI do make some exceptions. For example, the company offers full coverage (physical damage) Mexican insurance for visitors who will use their golf carts on recognized courses. This top-rated company also offers in Mexican auto insurance for travel ATV options on recognized roads. This may be beneficial if you will use your off-road vehicle primarily to get around in a small community. However, off-road activity that results in an accident is simply NOT covered by any policy in the industry. For most, the decision to stick with Mexico insurance for visitors for their primary vehicles is the only selection that will be made.
Use a Guide for Unknown Off-Road Areas
Whether you obtain extra coverage for your ATV or not, be careful about exploring unfamiliar areas. Use local guides or professional tour services to minimize your dangers.
Mexican auto insurance for travel by MexicanInsuranceStore.com comes with roadside assistance throughout Mexico at no additional charge.