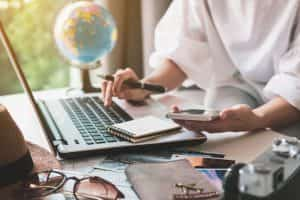 As technology becomes more and more accessible, it is now easier than ever to plan for a Mexican vacation. From viewing video clips of resorts, destinations and festivals online to visiting travel websites and checking for last-minute or early bird travel deals, taking advantage of different travel resources ensures first-time and returning Mexican travelers visit the locations best suited for their needs.
Before you plan your Mexico adventure, in addition to bringing recreational gear, you also want to pack Mexico auto insurance from Mexican Insurance Store.com to protect you while driving. You can easily compare Mexican Insurance options to get the best Mexico insurance possible.
For travelers interested in renting a car, purchasing a Mexican road map ahead of time allows for driving routes, itineraries, gas station stops and toll estimations to be planned ahead of time. Electronic currency converters are also helpful tools to bring. Currency converters can be useful to help with budgeting, gratuity calculations and negotiating prices.Finally, don't forget to travel with copies. Having replacement copies stored in another area (luggage, carry-on) can be priceless.
Copies of passports, hotel reservations, travel insurance policies, driver licenses (if renting a vehicle), emergency contact information and other travel resources need to be kept together and when arriving, stored in the hotel's in-room safe.
In addition to travel planning, viewing destination guides and searching for vacation deals, Internet resources are also valuable for upcoming and subsequent vacation planning. Enrolling in a hotel chain or airline's reward program, shopping for and purchasing travel insurance, and setting up online bill payments are some of the optional, pre-departure registrations and enrollments that may save you time, money and ensure you have confidence knowing your short-term, financial affairs are in order.Printed travel resources are portable and are a must for all Mexican travelers.
Guidebooks recommending attractions, lodging, restaurants and suggested rental locations are printed to highlight various Mexican regions or can be purchased as one, concise country-wide book.  Spanish/English phrasebooks are also portable and make a great resource to study. Additional pre-departure language assistance can be accessed by taking Spanish lessons, watching introductory Spanish courses on TV or CD ROM, or by listening to a conversational Spanish language CD.