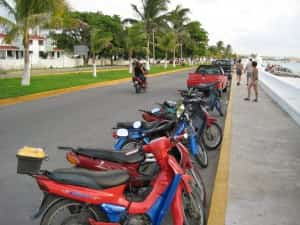 Mexican Insurance Coverage and Mexico's Best Rock Bottom Transportation Options
Sometimes for a unique, adventurous and rock bottom budget option, you just want to try something different for getting around, especially if you are on a very limited budget and/or traveling with a friend or companion.
The following rock bottom budget option tips about Mexican travel needs are brought to you by Mexican Insurance Store, offering the best quality Mexican car insurance at affordable rates! Click now for more great information on Mexican Insurance Store.com Mexican car insurance and outside the box Mexican transport ideas. For more information about Mexican insurance from Mexican Insurance Store visit their website comparison tool. To save time, money and frustration evaluating the best Mexican car insurance coverage review and compare A+ rated Mexican insurance from Mexican Insurance Store.com coverage to suit your individual needs.
Electric bicycle and scooter rentals
Not as costly as renting an auto, electric bicycle and scooter rentals are the perfect choices for travelers looking for personal transportation. In Mexico, scooter rentals can be found at freestanding, scooter rental shops or inside motorcycle stores. Bicycles, both electric and motor driven, can be found at various locations including beach side boardwalks, a resort's poolside area or health club facilities.
Scooter rentals for extended stays
If needing to rent a scooter or bicycle for an extended length of time, rather than paying daily or hourly charges, try to negotiate a multi-day or weekly rental rate. You may have to return the vehicle to its point of origin each day, but the savings can be tremendous. Moreover, traveling at a more leisurely pace, rather than worrying about rental deadlines, allows visitors to see more of Mexico's attractions on their own time. Insurance for each motorized vehicle will be required. In addition to driving insurance, other types of additional overages may be offered at local scooter rental agencies. Regardless of personal automobile coverage or a credit card's automobile rental coverage promises, you will need to purchase this mandatory insurance.
Make sure to take a photo of the bike at the rental shop so no one can ding you for phantom damage.
Regular Taxis
Fares for motorized taxis can be extremely low and taxis, all competing for your business, are plentiful. While not as inexpensive as pedal taxis; traditional, motorized ones can be found offering rock-bottom prices. TRAVEL TIP: Standing in the direction you wish to head and flagging down an oncoming taxi, rates will be the lowest offered. This is because the taxi is already heading towards the direction you need and will be more likely to negotiate a lower-priced fare.
Mexico's Best Rock Bottom Transportation Options and Mexican Insurance Coverage