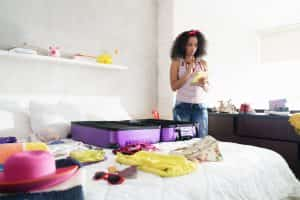 When packing for a Mexican getaway, most people tend to grab clothes, shoes and basic toiletry items but for vacation purposes, unless you want to spend countless dollars in the resorts gift shop purchasing forgotten items, basic toiletry products, as well as those used on an as-needed basis, will need to be packed.
These Mexico Packing Tips: Remembering Even the Smallest Items information is brought to you by Mexican Insurance Store.com, the best quality and easiest to purchase Mexican insurance Online at affordable rates! For more information on Mexico Car Insurance visit Mexican Insurance Store Mexican Car Insurance or Mexico Car Insurance rates today!
Because airline regulations limit the amount of liquid products a person can bring in their luggage, if needing to select liquid products, choose the ones that would be the most expensive ones to replace. Contact solution, prescription mouthwash, prescribed insulin and other hard-to-replace items should receive first priority over shampoos, conditioners and hand sanitizer-type products. If able to have any room left over, these products, along with sunscreen and insect repellents should be packed next.
After packing the allowable limit of liquid-based products, other medicine chest items to consider include: First Aid kits, motion sickness medicine, birth control, menstruation supplies, foot cushioning/insoles, bath soaks (for sore muscles, tired feet) and prescription medication. Items not packed will need to be purchased upon arrival. To make the process easy, write down items needing purchasing and keep the list with your travel documents. This way, one-stop shopping at a local pharmacia (pharmacy) will allow you to save valuable Mexico vacation time by purchasing needed items in one shopping trip.
Clothing items are selected based on a person's preference and activity choices but often forgotten items will need to be packed. Bringing more than one swimming outfit is a wise decision; especially if you will be a frequent beach attendee. Since it can take more than a day for swimwear to dry, having an additional suit will guarantee a dry one is always available.
After swim time is over, Mexican beaches can become cool. Packing a sweater, additional pair of shoes and outfit appropriate for cooler weather is necessary.Most importantly, remember the travel information. Don't leave home without official documents such as your passport and your drivers license and of course Mexican Auto iInsurance which is important for your peace of mind. Also remember guidebooks, your itinerary (which you share with others back home) and other relevant guides such as road maps and guides to attractions.
For info about Mexico Packing Tips Mexico Packing Tips