In Acapulco, you're spoiled for choices when it comes to hotels and resorts. Even if you stay at an all-inclusive place with sprawling grounds, you're going to want to explore the rest of the area too. With Mexican insurance policy, you can do that safely and legally. It's nice to have a car in Acapulco, but you must maintain valid car insurance for Mexico online at all times. Visit Mexicaninsurancestore.com, the popular online provider, to see how affordable the highest ranked coverage is online, and buy the car insurance for Mexico online you need before heading to your resort.
Grand Mayan Acapulco
When people ask about the best resorts in Acapulco, they are often advised to give Grand Mayan a try. This stunning resort is not only located in one of the most beautiful parts of Acapulco, but it offers exceptional service. In fact, many people return again and again simply for the impeccable service that they enjoy while staying at the resort. Grand Mayan boasts a lovely beach, several pools and top-notch restaurants. You can pamper yourself all you want too because of Spa Brio. The rooms are comfortable and luxurious, and the entire experience is sure to be out of this world.
Banyan Tree Cabo Marques
With its location on a cliff overlooking the Pacific Ocean, Banyan Tree Cabo Marques is second to none. The view alone makes a stay at this premium resort well worth it. Guests are also mesmerized by its decor and architecture, which are designed to mesh perfectly with the natural beauty of the area. Enjoy drinks and snacks at the poolside bar, or just sit on a balcony and take in the view. In terms of accommodations, the villas, which are on stilts, are probably the most popular. Just remember if you don't have car insurance for Mexico online, or you cant show your Mexican insurance policy, the police can detain you in an auto accident in Mexico.
Las Brisas Acapulco
If you'd like to enjoy the perks of basically having your own tiny home in Acapulco for a short spell, Las Brisas is a great place to consider. The casitas, or little houses, couldn't be more charming. Adorable pink jeeps ferry guests around the grounds, which are well-maintained and absolutely beautiful. Several casitas and suits have private swimming pools, and guests enjoy access to the La Concha Beach Club. It's easy to see why so many people stay here for weeks at a time.
Do you purchase a quality Mexican Insurance Policy when driving South of the Border?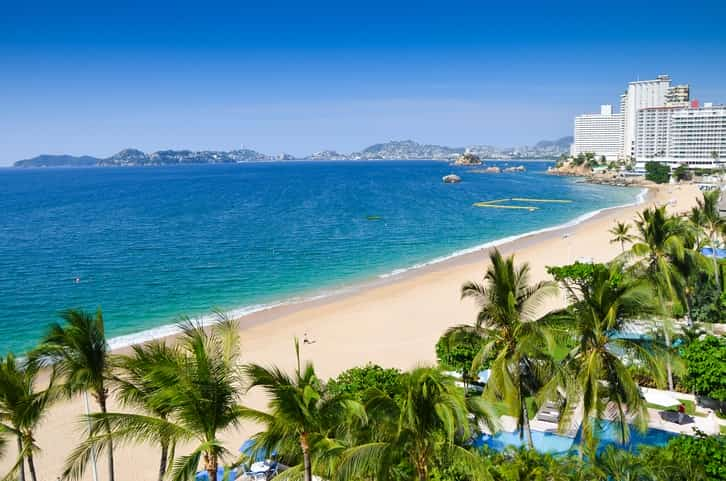 Additional information about the best hotels and resorts in Acapulco can be found Acapulco's Best Resorts.