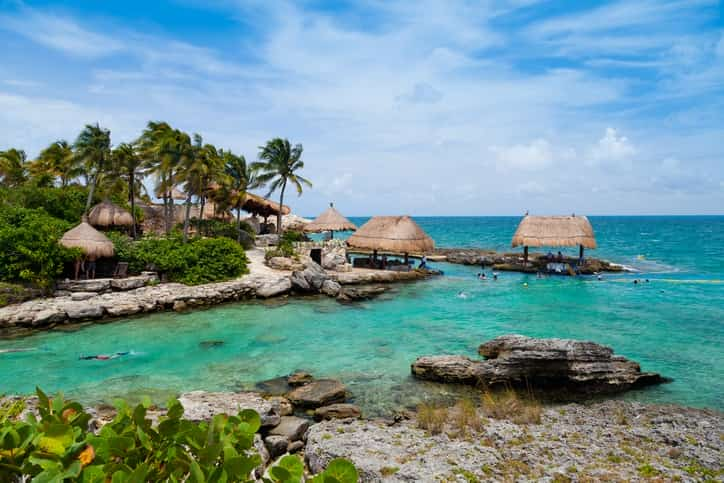 Mexican Insurance from Mexican Insurance Store for Mayan Riveria
The Mayan Riviera is an area within the state of Quintana Roo along the Caribbean Sea that's one of Mexico's top tourism destinations. Because of its preponderance of Mayan historical artifacts and numerous luxury resorts, it got its new name in 1999, but beforehand was known as the Cancun – Tulum corridor.
Mayan Riveria – Mexican Insurance travel tip: Just remember, if you drive, a Mexican insurance from Mexican Insurance Store is vital because US and Canadian auto Insurance policies exclude the territory of Mexico. Look for VALUE and SECURITY when shopping as there is NO standard Mexican car insurance coverage and many policies sold at the border are NOT Rated for claims paying ability. Did you know? Mexican Insurance from Mexican Insurance Store comes with FREE Roadside Assistance.
This is one of the most important areas for the study of Mayan culture. That's because the Mayans saw it as a major commercial and religious center. It was once a very depressed, fairly hidden area from tourism until the development of Cancun in the 1970's. Mayan Riviera offers tourists something different from the norm, as there are many ruins and sites for visitors to see. Some of those include:
· Punta Laguna
· Ek Balam
· Xel-Ha
· Muyil
· Akumal
If ruins aren't your specialty, there are many attractions one can visit. Some of the favorites are:
Aviario Xaman-Ha, where there are many different species of birds and other animal species like iguanas and small mammals
Xel-Ha, an ecological theme park and aquarium. You can swim with dolphins, cliff-dive, and scuba. There are stingrays and other large fish you can actually be in the water with.
Aktun Chen, a natural park around 1,000 acres of rain forest and has 3 cetones, or underwater caves, as well as an underground river
Sian Ka'an Biosphere Reserve, a protected area that has excavated Mayan ruins, freshwater canals, and lagoons, as well as a diversity of wildlife.
Do you like golf? If so, there are four golf courses in Mayan Riviera, one of which, Golf Club El Camaleon Mayakoba, held Mexico's first PGA tournament in 2007. The others are Golf Club Playacar, Grupo Mayan Golf Riviera Maya, and Iberostar Playa Paraiso Golf Club.
And if all you want to do is swim and relax, there are beaches all over the place, and many water sports to partake of, including snorkeling and kite surfing. You can actually swim with dolphins, or sail among them in catamarans. And when you've finished playing in the water during the day, there's a thriving nightlife, including dance clubs and some of the top restaurants in the world.
All in all, Mayan Riviera can be whatever you want it to be, whether you want excitement or relaxation.
For more info about quality Mexico car Insurance visit Mexican Insurance from Mexican Insurance Store .com today. Mexican Insurance from Mexican Insurance Store is now required in order to drive on any highway in Mexico.
Mexican Insurance from Mexican Insurance Store for Mayan Riveria