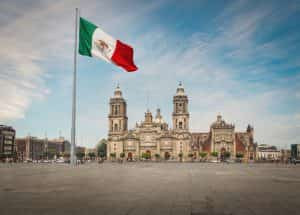 ---
Narrowing down the vast list of things to see and do in Mexico City is a tall order. Like any major city, there are certain attractions and sights in Mexico City that are absolute "must-sees" for anyone who visits. Wherever your tastes may lie, there are certain places that you simply shouldn't miss. After squaring away your Mexican Car insurance online policy and making the drive down, be sure to include the following three attractions during your stay. You can use public transportation while youre in the city, but keep your Mexican auto insurance handy for the drive back home. For simplicitys sake, buy Mexico Insurance. Review top level online providers like Mexican Insurance Store Its a no-brainer!
#1: Palacio Nacional
While the Palacio Nacional is an important government building in Mexico City, thats not usually why people visit it. The real draw is the vast collection of breathtaking murals by Diego Rivera that can be viewed along many of the site's walls. You will be especially glad that you bought Mexican insurance when you gaze up at the larger-than-life paintings by the famous Mexican muralist. You could sign up for a tour to learn more about the murals, or you could buy a book about them so that you really understand what you are viewing.
#2: Zocalo
Every city has a place that could be described as its "beating heart." In Mexico City, that designation undoubtedly goes to the Zocalo, which is officially known as the Plaza de la Constitucion. This vast square boasts a massive Mexican flag. It is located in the city's vibrant Centro Historico; at any time of the day or night, you will find plenty of people meandering through the zocalo, which happens to be the second-largest public square in the entire world. Chances are, you will find yourself there again and again while you are in the city.
#3: The Catedral Metropolitana
Religion is extremely important to the people of Mexico. It comes as no surprise, then, that a massive cathedral stands in its capital city. The Catedral Metropolitano is utterly fascinating. It was built over a period of about 250 years, so it incorporates many different architectural styles. When it was originally built, an Aztec temple was torn down on the same site; materials from the temple were used to build the cathedral and can be seen to this very day. As a result, the cathedral is an amalgam, of sorts, of the two impressive cultures that have existed on the site. Set aside a good amount of time to explore this cavernous place.