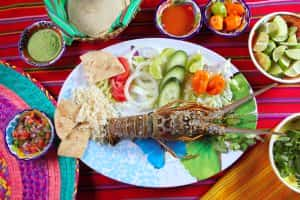 When most Americans think of sumptuous lobster, Maine and Louisiana generally come to mind. If you're already buying Mexican Insurance for a south-of-the-border road trip, though, you could feast on some of the best lobster around. Indeed, Puerto Nuevo Lobster Village – which is also known as the "Lobster Capital of Baja" – is just 45 minutes south of the U.S.-Mexico border. What better way to make good use of your Mexican Auto Insurance than to indulge in some of the best pan-friend lobster in North America? Better still, Puerto Nuevo is a truly quaint and welcoming place. In addition to getting your fill of topnotch lobster, you can explore its lovely streets and gaze out at the gorgeous ocean.
Getting to Puerto Nuevo
Happily, getting to Puerto Nuevo is easy. As long as you've procured quality Mexican Insurance from Mexican Insurance Store online, you'll have everything you need to make the journey. Just make your way over to the 1D toll road that runs along the Pacific Coast; it's easy to do from Tijuana. From there, just travel south for about 45 minutes, until you reach the Puerto Nuevo exit. You'll have a stress-free trip, thanks to your first-rate Mexican insurance policy. Along the way, you'll be treated to plenty of amazing scenery, too.
Take Your Pick from Dozens of Restaurants
Puerto Nuevo takes immense pride in its lobstering reputation. Evidence of this abounds in the tight-knit village; despite it's small size, there are more than 30 different restaurants offering up lobster. Indeed, the economy of Puerto Nuevo revolves around the red crustaceans. After taking one bite of fresh, sumptuous lobster, you'll be glad that you invested in Mexico insurance in order to get there. In Puerto Nuevo, pan fried lobster is the classic dish. It's usually served with warm tortillas, refried beans, salsa, lime and rice. Is your mouth watering yet?
Experience the Wine and Lobster Festival
Lobster season runs from October to March. To kick it off, Puerto Nuevo holds a spectacular Wine and Lobster Festival every October. Snap up some quality Mexican insurance and make the journey at that time of year. You'll revel in the delicious food, wine and arts and crafts that abound at this incredible festival. Everywhere you go, you'll encounter easygoing people with a passion for lobster. Without a doubt, you'll bring back some fond – and unforgettable – memories of your time in Puerto Nuevo. Chances are, you'll want to come back again and again in the future!