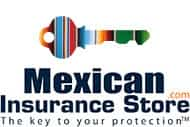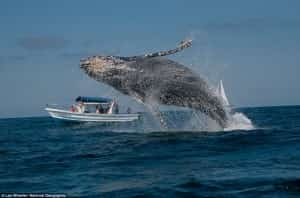 Whale Breaching Between Two Fishing Boats – Photo by Lea Wheeler, National Geographic
Mexico auto insurance from MexicanInsuranceStore.com – Mexico Whale Watching
One of the most popular eco-adventures in Mexico can be whale viewing in the winter and spring months of the year. Fall is the ideal time to get your plans together, and this includes figuring out your Mexico auto insurance from MexicanInsuranceStore.com. If your vehicle choice isn't yet decided, you will want to wait to be sure that your Mexico insurance policy is written for the correct automobile. If you are already positive about your plans, however, then you can take care of your coverage right away. Mexico auto insurance from MexicanInsuranceStore.com is now required for highway driving in Mexico.
Timing for Whale Migration
The migration south to the warmer waters of Baja and the Sea of Cortez begins in the latter part of December. The mother whales head into these zones to give birth, and later in the spring, they will turn around and make the trek home. From December through April, whale viewing is possible along both the Sea of Cortez and Pacific coasts. Many travel as far south as possible on the Baja, but that drive may be lengthy. Mexico auto insurance from MexicanInsuranceStore.com is not available on Mexican-plated rental vehicles, so you may need to find an alternative if you will fly to Cabo and rent a vehicle in the area. However, there are many locations within closer reach that will allow viewing opportunities such as charter boats. You may want to try coordinating a trip that involves a stay in Rocky Point or San Felipe, allowing you a short driving distance in Mexico and access to whale viewing charters. Ensenada may even provide some excellent opportunities for viewing the magnificent ocean creatures.
Logistics
Remember that the roads are typically busier in Mexico just after the Christmas holiday as many people travel to see family members. January and February may be the most ideal months for a whale watching adventure as things will become more active with spring break travel. Accommodations tend to be more difficult to locate during such active seasons, and charters may be booked more fully. If your plans change, it's helpful to know that you can adjust the dates and details of your Mexico auto insurance from MexicanInsuranceStore.com prior to the start date. Your Mexico insurance policy should be valid for the full length of your time in Mexico.
Mexico auto insurance from MexicanInsuranceStore.com comes with FREE Roadside Assistance.
Learn more about your Mexico insurance policy.