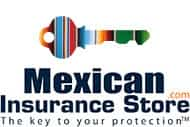 Mexican Auto Insurance Specifics When Driving On Vacation In Mexico
When planning to drive in Mexico on your Mexican vacation, you should be aware of Mexican auto insurance and motor vehicle laws. In order to drive legally in Mexico, you must purchase Mexico auto insurance, or have immediate, instant access to what could be thousands of dollars needed to compensate victims in an at fault auto accident In Mexico.
The amount of automobile coverage you have in your country of origin doesn't matter because US and Canadian car insurance policies are not valid and not recognized in Mexico. Travelers crossing the border from the USA and Canada often fail to realize the provision in Mexican law requiring the purchase of Mexican auto insurance to cover them while they are driving in Mexico. Compare Mexican Insurance Store for quality Mexico auto insurance coverage and lowest rates!
Information concerning driving in the Republic of Mexico and obtaining Mexican auto insurance from a proper Mexico auto insurance underwriter such as Mexican Insurance Store may be obtained easily online from the Internet. There are some quality Mexican Auto Insurance companies listed online which can facilitate the purchase of appropriate coverage and can give you basic driving information, including details about specific routes within the country.
Having valid Mexico auto insurance coverage in Mexico is important in the event that you are involved in a driving mishap while in that country. Having the required coverage means that you have exhibited proof of financial responsibility and that will go a long way in the midst of your interaction with the Mexican government and traffic authorities, even to the extent of preventing you from being hauled off to jail!
Mexico auto Insurance or immediate dollars are necessary in the event of an accident in Mexico regardless of who is at fault in the accident. Both liability converge and full coverage. The liability only coverage covers property damage to the other car and bodily injury; full coverage covers damage to all cars and also covers bodily injury to others.
Even if you have extensive insurance coverage for all parties and vehicles involved in a policy secured outside of Mexico, that coverage is no good to you in Mexico regardless of how thorough it is; you simply should comply with Mexican law and obtain Mexican Auto Insurance coverage from Mexican Insurance Store.
Find a company which writes valid Mexican Auto Insurance for Mexico before embarking on your Mexican dream vacation and avoid the hassles of any future trouble from Mexico auto liability of any sort! Mexican Auto Insurance Specifics When Driving On Vacation In Mexico!