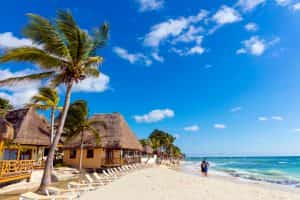 It is a perfect spot for a beach vacation and a history lesson. Playa del Carmen, Mexico is home to the ruins of Tulum, an ancient Mayan city and miles of gorgeous white sandy beaches.
You can drive with no fear in Mexico as long as you purchase Mexican insurance at mexicaninsurancestore.com in advance. American policies are not valid south of the border so you need to get special Mexico insurance just for this excursion. Having Mexican auto insurance will give you peace of mind and avoid any hassles with the authorities.
Playa del Carmen is located on Mexicos Yucatan Peninsula about 60 miles south of Cancun. Originally founded as a small fishing village, this Mexican city is now home to a number of resorts and hotels that cater to tourists. The calm waters of the Caribbean Sea are perfect for swimming and the coastline features a number of shallow lagoons which are ideal for snorkeling.
Fun in the sun is just a small part of the experience of visiting Playa del Carmen. The city was once a part of the ancient Mayan empire and you can still explore the ruins of Tulum which are nearby. Located high on a cliff overlooking the Caribbean, the ruins which have been well preserved are just a short drive south of Playa del Carmen.
Tulum was a walled city that dates back to about 1200. One side of the city was protected by the steep cliff going down to the sea and the other side by a tall thick wall with tall watch towers. Inside the fort, the most famous of all of the structures is the Temple of the Frescoes which was used as an observatory for tracking the movement of the sun. Carved into the outside of the temple are depictions of various gods as well as sea serpents. The ruins are among the most visited of all sites in Mexico.
Another spot to visit during your trip to Playa Del Carmen is the Xaman-Ha Aviary. There you can see in their natural environment Green Parrots, Macaws, Toucans and Pink Flamingos. There are a total of 60 species of birds in the aviary which are all native to the jungles of the Yucatan Peninsula. Your children will love seeing these exotic birds up close.