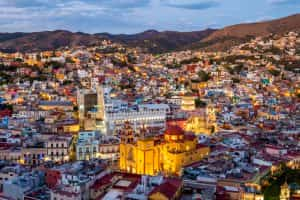 Whether you're a professional photographer – or just a beginner – you're sure to appreciate places that are naturally photogenic. While some would argue that it's possible to find beauty in nearly anything, the fact remains that certain places lend themselves better to photography than others. In Mexico, the city of Guanajuato is definitely one of them. By scooping up some topnotch Mexican auto insurance from mexicaninsurancestore.com, you can head into central Mexico and visit this charming state capital. You'll be happy that you invested in Mexican insurance cover once you lay eyes on this incredibly picturesque place.
A Unique Layout
Driving to Guanajuato from the U.S.-Mexico border is generally a two-day journey. As a result, you absolutely must have first-rate car insurance for Mexico on hand; make sure that the policy you buy will cover your entire trip, too. Review and compare Mexico Car Insurance from Mexican Insurance Store.com today for comprehensive, reliable Car Insurance for Mexico. The drive down is filled with interesting sights, and the scenery becomes more and more stunning as you approach Guanajuato. You're sure to marvel at the many tunnels that lead into and out of the city, which were put in place in order to preserve its architectural integrity – a fact that helps add to the ambiance and photogenic nature of the town.
Bold Colors and Stunning Vistas
There are plenty of exceptional attractions to enjoy in Guanajuato – from a towering statue called El Pipila to the ornate 17th-century Basilica of our Lady of Guanajuato, the town is bursting at its seams with historic sights. If you're here to take photos, though, you'll probably love simply roaming the picturesque streets of the town on foot. Narrow, winding roads help lend this mountain town an exotic and frozen-in-time feel. It's practically impossible to take a bad photo, especially given the town's propensity for brightly colored stucco buildings interspersed with ornate architectural gems.
A Trip to Remember
If you decide to take the trip down to Guanajuato, make sure that you bring several blank memory cards for your digital camera. You are sure to be so inspired by the town's loveliness that you'll probably end up taking hundreds – if not thousands – of pictures. For additional inspiration, pay a visit to a few of the area's mines; some of the oldest ones were first excavated during the 16th century. Wherever you go, and whatever you do, Guanajuato is sure to be one Mexican vacation that you won't soon forget!
Author Linden Gray, founder of Mexican Insurance Store.com is an international online insurance veteran with over 32 years of wholesale, retail, and company insurance experience. Mr. Gray has been featured in numerous offline & online publications including RV Magazine, The Press Enterprise, PE.com, Google News, Yahoo News, Reddit, Digg and Buzzle. Visit Mexican Insurance Store.com for more facinating information and resources about Mexico and Mexican Auto Insurance.