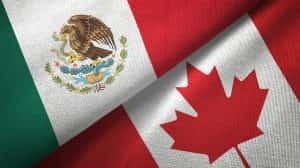 If you're tired of spending small fortunes on beach resort vacations, Mexico is a worthwhile place to consider. Many Canadians make trips down to Mexico in order to enjoy some fun in the sun, without spending exorbitant amounts of money. As long as the drive down to Mexico may seem, the reality is that its interesting and unforgettable. Besides, theres a very exciting reward at the end of the journey: A winter vacation in a warm, sunny climate. What's not to like about that? Before planning your trip in earnest, though, there are two things that you need to know about: car insurance and navigation issues. The first one can be handled online with ease; the second one can be addressed with a quality GPS system.
Snap Up Some Mexican Auto Insurance for Canadians
First things first: You need to buy decent Mexican auto insurance for Canadians before driving south of the U.S. border. Mexican insurance for Canadians from Mexican Insurance Store.com is necessary because Canada-based insurance isnt valid in Mexico. Your Canadian insurance will protect you while you drive through the States, but youll need quality Mexican car insurance for Canadians once you've crossed into Mexico. Mexican insurance for Canadians is readily available online; in fact, buying online is always the best way to go. If you wait to buy your Mexican car insurance at the border, you could end up without a quality policy – and end up in heaps of trouble in the end.
Invest in a GPS
If you dont already own a GPS system for your car – or if your car doesn't have one thats built in – dont worry. GPS systems have become surprisingly affordable. A few years ago, finding GPS maps for Mexico wasnt easy; today, its not a problem at all. Topnotch road maps are readily available, but a GPS unit will make life a lot easier when driving around in Mexico. Considering the length of your road trip – and how much youll save by not buying plane tickets – its an investment that makes sense.
Be Ready for Anything
Once youre armed with exceptional Mexican car insurance coverage and a first-rate GPS unit, you'll be ready to explore Mexico to your heart's content. Whether you plan on staying for a single week or for several, you're going to love the many great opportunities that Mexico has to offer. When you're sitting on a Mexican beach, sipping a margarita and basking in the sun, you'll think of snowy Canada and smile. Without a doubt, a wintertime vacation in Mexico is just what the doctor ordered. By the time you return, you'll be tanned, rested and happy.
Canadians call Toll Free (888) 800-9988 for Canadian car insurance for Mexico. Mexican Insurance store.com serves all of Canada including British Columbia, Alberta, Saskatchewan, Manitoba, Ontario, Quebec and other cities