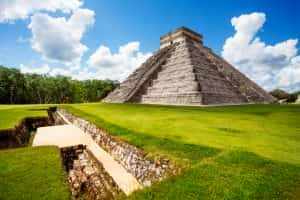 ---
If theres one Mexican archeological site that gets an incredible amount of attention from the world, its Chichen Itza. Ever since the Spanish conquistadors first laid eyes on the site during the 16th century, Chichen Itza has confounded and fascinated outsiders. Although it is located relatively far from the U.S.-Mexico border, on the Yucatan Peninsula, buying Mexican insurance and driving down is not beyond the realm of possibility. In fact, using Mexico insurance coverage to drive to Chichen Itza is a smart way to save yourself a great deal of money. Beyond that, driving and buying Mexican auto insurance from Mexican Insurance Store Online gives you unparalleled freedom to explore the region on your own terms. One things for sure: You will not regret the journey.
Understanding Chichen Itza
There are a few key facts that you need to know about Chicen Itza before you buy Mexican insurance and drive down. First, it's a place that was extremely important to the Maya civilization. People regularly buy Mexico insurance and drive down; just make sure to respect the site while you are there. The name Chichen Itza roughly translates to mean "at the mouth of the well of the Itza." The term "Itza" itself means, approximately, "magical waters." As a result, you can see that the site is viewed as sacred and important by those who built it. They may be gone, but it's important that visitors continue to show it respect.
Everyday Life in Chichen Itza
While a considerable amount of information is known about life at Chichen Itza, there are many gaping holes as well. For one thing, the Yucatan Peninsula is exceptionally dry and arid. How did those who lived at Chichen Itza stay hydrated? Most likely, it was through a couple of large cenotes, or sinkholes, that are located nearby. In terms of diversion, the Maya who lived at Chichen Itza built one of the largest and most impressive ball courts in Mesoamerica. It's safe to say that these people enjoyed their sports and that they took them extremely seriously.
Checking Out El Castillo
When most people think of Chichen Itza, the image of its massive step pyramid comes to mind. The pyramid is known as the Temple of Kukulkan; through the years, outsiders have taken to calling it El Castillo. It's interesting to note that the pyramid was built upon an older pyramid, which still lies below. Furthermore, the pyramid was built in such a way that the shadow of a serpent crawls down its side at sunset and sunrise during the spring and autumn equinoxes. If you can plan your trip for either time, you will be in for an especially amazing experience.