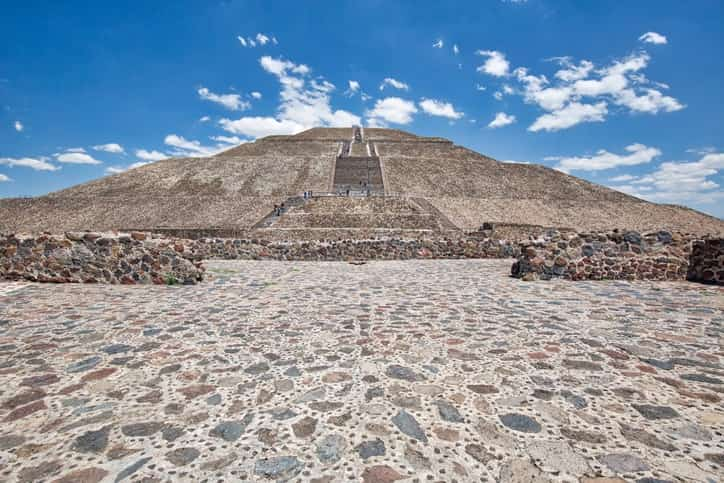 Travelers to Mexico can discover the archaeological wonders of Teotihuacan in the Basin of Mexico. One pyramid to see on your journey to Teotihuacan is the Sun Pyramid. This site was excavated at the beginning of the 20th century by Leopordo Batres, including two tunnels that penetrate the Sun Pyramid's core. Eduardo Matos Moctezuma led another excavation in 1992 to 1993, exploring the north and east sides of the pyramid.
The Sun Pyramid is 63 meters high and 215 square meters. After two subsequent expansions, the final pyramid stands at 225 square meters. Visitors can climb the tiered steps to the top of the Sun Pyramid.
The Avenue of the Dead connects the Sun Pyramid to other buildings at Teotihuacan. When you visit Mexico City, you can drive to Teotihuacan, only 40 kilometers to the northeast of El Distrito Federal. Your destination will be the city now called San Juan Teotihuacan.
Learn how the ancient people of Teotihuacan preserved their civilization in a manner similar to the Egyptians in North Africa. This settlement was one of the most advanced civilizations in North America prior Christopher Columbus' voyage to the New World. Modern scholars debate about the cultural heritage of the native peoples of this settlement, and some believe that multiple cultural groups lived here.
The whole region of Teotihuacan was designated a United Nations Educational, Scientific, and Cultural Organization (UNESCO) World Heritage Site in 1987. In the first millennium CE, the settlement of Teotihuacan was a large city with over 100,000 residents.
The remains of the city include residences along the Avenue of the Dead that look like the basis of pyramids with their tiered steps. Teotihuacan also boasts the Moon Pyramid and other ruins for Mexican visitors.