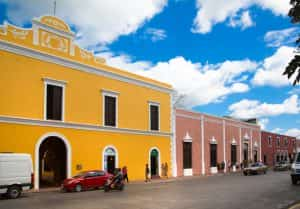 The unique culture of Merida Mexico is the result of isolation from other regions that have been necessitated by the geographical set up of Yucatan. Colonialists were unable to eradicate the steadfast culture of the populous Maya people and their culture remains strong presently. American and Canadian expatriates regularly converge at the English library of Merida that is also popular among local residents who are interested in learning more about the English language.
Best Mexican Auto Insurance For Yucatan Expatriates!
No matter where you head out to in the Yucatan you need the best Mexican auto insurance from Mexican Insurance Store you can find before driving. Mexican Insurance can easily be acquired affordably online by Mexico motorists who want to save a few pesos and time. Mexico law requires drivers from Canada and America purchase Mexico Auto insurance in order to pay for damages you are deened to have done to others (unless you wish to pay instantly out of your own funds).
Cultural events are a common form of celebration in Merida as the people continue to promote their culture in music, dressing, speaking and other ways of life. The colonial structures are a critical area of focus for foreigners who have retired or settled in the area. People have the option of living in the affluent suburbs or the more affordable housing schemes in the large metropolis. The regional dishes are distinctly different from what other Mexican cities outside Yucatan typically offer. For American and Canadian drivers who want to drive along some of the wide roads of Merida, Mexican insurance for their cars is a legal requirement.
Getting around this particular Mexican destination is much more enjoyable for drivers who have their own cars because they have full control of their movement around the city. Since United States and Canadian insurance is not accepted in Mexico, savvy drivers should be prepared to invest in proper Mexico auto insurance. Driving around is a great way for travelers and expatriates to get a chance to experience Merida freely and enjoy the unique culture.
For drivers who want to be content with the type of Mexican insurance they buy, emphasis should be placed on how quickly and easily they can get the insurance. Most people no longer have the time or wish to experience the frustration of making time consuming calls or physically visiting insurance companies to shop.
To avoid hearing "You paid too much", the best option is to purchase online Mexican car insurance that will secure the motorist and his or her car while driving around Merida and other cities in Yucatan. Direct services, as opposed to using middle men, reduces costs and gives drivers a chance to get affordable Mexican insurance. Best Mexican Auto Insurance For Yucatan Expatriates!