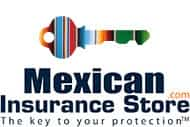 Depending on the type of lodging accommodations chosen, rooms with televisions will have predominantly Spanish-language television channels but may have some English ones. If watching a Spanish-language channel trying to decipher the weather forecast and Spanish is not a fluent language, there are ways travelers can gauge an idea regarding the next days forecast.
Before driving to Mexico make sure to buy Mexican Insurance Online. Buying Mexico Insurance by Mexican Insurance Store.com is mandatory to drive your vehicle in Mexico because US or Canadian insurance will not be accepted by the government and you will be detained in ant at fault accident. To buy a reliable policy at great rates, click Mexican Auto Insurance for Canadians.
Whether able to understand Spanish, English or both, all Mexican temperatures on the forecasts may seem chilly. This is because Mexican temperatures are presented in Celsius rather than Fahrenheit. Celsius numbers will always be lower and while there is a mathematical conversion available to compute one number form to another, it is quicker to understand temperature estimates. A comfortable room temperature (for adjusting air conditioning units) is around 22C. This typically is the 72 – 73F degree comfort range most people prefer. If weather forecasts call for this temperature during the day, plan on a mild day and if there is no scheduled precipitation, take advantage of the day's pleasant conditions.
Forecasts of 30C will be hot (around 85F) and estimated daily temperatures of 40C will be dangerously hot (102F). If forecasts predict this weather, try to make plans for early morning and late evening activities. Travelers who must go out during the day should try to select activities close to their resort so they can rest if feeling exhausted or ill from the extreme heat. At night, if the forecasts calls for temperatures around 20C (68F or less), a light jacket or sweater may be necessary.
All future forecasts may use Spanish-language days of the week. These days are usually not capitalized unless at the beginning of a sentence. Other words like "hoy" which means "today" and "manana" which means "tomorrow" may be presented on the forecast's visual presentation. Mexico Weather Forecasts! Travelers unfamiliar with Spanish-language days of the week can learn the following:
Monday- lunes
Tuesday – martes
Wednesday- miercoles
Thursday – jueves
Friday- viernes
Saturday – sabado
Sunday- domingo.